The Every Boy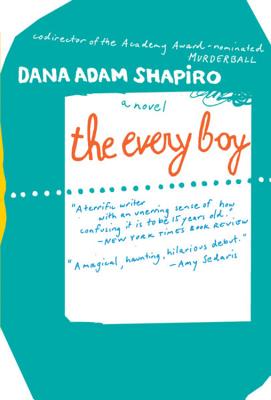 The Every Boy
Mariner Books, Paperback, 9780618773404, 211pp.
Publication Date: February 1, 2007
* Individual store prices may vary.
Buy at Local Store
Enter your zip code below to purchase from an indie close to you.
or
Buy Here
Description
When fifteen-year-old Henry Every washes up on shore, the only clues to his shocking death are those he leaves behind in a secret ledger that someone mysteriously leaves on his parents' doorstep. Crammed full of his darkly comic confessions, the pages detail Henry's myriad misadventures on his wayward quest for self-betterment: acts of petty crime with his best friend, Jorden, a romantic obsession with the elusive Benna, and a prickly relationship with a lethal jellyfish. Quietly wise and laugh-out-loud funny, The Every Boy proves there's hope in the darkest places -- you just have to know where to look.
About the Author
Dana Adam Shapiro produced and co-directed MURDERBALL, the Academy Award nominated documentary about quadriplegic rugby players. Shapiro is a founder of ICON Magazine, a former senior editor at SPIN, and a contributor to the NEW YORK TIMES MAGAZINE and other publications. With Plan B Entertainment, he is set to write and direct a movie based on his first novel, THE EVERY BOY.
Praise For The Every Boy…
"A sweet, melancholy first novel...so many young writers have been described as Salingeresque that it's a shock to come across one who actually fits the bill." --Tom Perotta, author of Little Children

"A terrific writer with an unerring sense of how confusing it is to be 15 years old." The New York Times Book Review

"A magical, haunting, hilarious debut." --Amy Sedaris

"Anything but ordinary...You could black out every other paragraph in The Every Boy and it would still outcharm Catcher in the Rye." TimeOut New York

"Perversely funny." The New York Daily News

"Henry's mid-novel trip to New York cements the inevitable Holden Caufield parallel, but given Shapiro's coporeal take on youthful alienation, Gregor Samsa might be just as relevant." The Village Voice

"Full of charm and eccentricity." The Arizona Republic

"True to his surname, Henry's confessions record his conflicted progress through the stations of adolescence, the agonies all young people suffer as they struggle with Big Issues of growing up: how to fit in without relinquishing the right to be different, how to know whom to trust and whom to love, how to forgive our parents for the unforgiveable things they do to us." Boston Globe

"Remarkably buoyant and witty...[and] unsentimentally perceptive and optimistic about the oddness and difficulty and even, sometimes, the joy of being a human among humans." --Matthew Sharpe, author of The Sleeping Father