The Worst Hard Time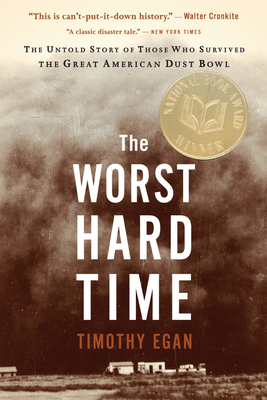 The Worst Hard Time
The Untold Story of Those Who Survived the Great American Dust Bowl
Mariner Books, Paperback, 9780618773473, 340pp.
Publication Date: September 2006
* Individual store prices may vary.
Buy Now
or
Shop Local
Enter your zip code below to purchase from an indie close to you.
Description
The dust storms that terrorized the High Plains in the darkest years of the Depression were like nothing ever seen before or since.
Timothy Egan's critically acclaimed account rescues this iconic chapter of American history from the shadows in a tour de force of historical reportage. Following a dozen families and their communities through the rise and fall of the region, Egan tells of their desperate attempts to carry on through blinding black dust blizzards, crop failure, and the death of loved ones. Brilliantly capturing the terrifying drama of catastrophe, Egan does equal justice to the human characters who become his heroes, the stoic, long-suffering men and women whose lives he opens up with urgency and respect" (New York Times).

In an era that promises ever-greater natural disasters, The Worst Hard Time is arguably the best nonfiction book yet" (Austin Statesman Journal) on the greatest environmental disaster ever to be visited upon our land and a powerful cautionary tale about the dangers of trifling with nature.
About the Author
TIMOTHY EGANis a Pulitzer Prize winning reporter and the author ofseven books, most recentlyShort Nights of the Shawdow Catcher: The Epic Life and Immortal Photographs of Edward Curtis.His previous books include TheWorst Hard Time, which won a National Book Award and was named a New York Times Editors Choice, andThe Big Burn: TeddyRoosevelt and theFire ThatSaved America, aNew York Timesbestseller and winner of the Pacific Northwest BooksellersAward and the Washington State Book Award.Heis an online op-ed columnist for the New York Times, writing his "Opinionator" feature once a week. He isa third-generation Westerner andlives in Seattle.