The Nine Lives of Rotten Ralph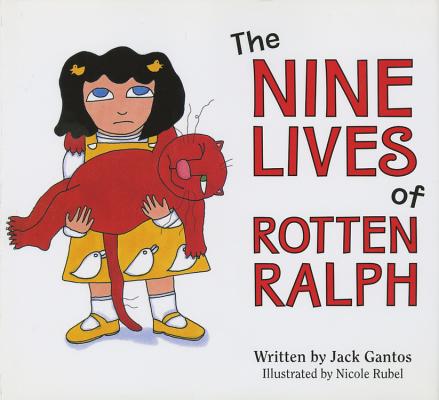 The Nine Lives of Rotten Ralph
Houghton Mifflin, Hardcover, 9780618800469, 32pp.
Publication Date: April 1, 2009
* Individual store prices may vary.
Buy at Local Store
Enter your zip code below to purchase from an indie close to you.
or
Not Currently Available for Direct Purchase
Description
Poor Rotten Ralph. His health just isn't what it used to be. Thanks to his rotten ways, he's down to the very last of his nine lives!
One more slip and he'll be gone forever," warns the vet.
Sarah, Ralph's doting owner, is fiercely determined to keep her cat safe. But how much coddling can Ralph take before he has to do something totally and utterly rotten?
In this ninth tale about the most delightfully disobedient cat in town, being naughty has never looked so good to Rotten Ralph. But then again, after a hard day's rotten work, neither does the warmth and safety of Sarah's lap!
About the Author
Jack Gantos has written books for people of all ages, from picture books and middle-grade fiction to novels for young adults and adults. His works include "Hole in My Life", a memoir that won the Michael L. Printz and Robert F. Sibert Honors, "Joey Pigza Swallowed the Key", a National Book Award Finalist, and "Joey Pigza Loses Control", a Newbery Honor book. Jack was born in Mount Pleasant, Pennsylvania, and when he was seven, his family moved to Barbados. He attended British schools, where there was much emphasis on reading and writing, and teachers made learning a lot of fun. When the family moved to south Florida, he found his new classmates uninterested in their studies, and his teachers spent most of their time disciplining students. Jack retreated to an abandoned bookmobile (three flat tires and empty of books) parked out behind the sandy ball field, and read for most of the day. The seeds for Jack s writing career were planted in sixth grade, when he read his sister s diary and decided he could write better than she could. He begged his mother for a diary and began to collect anecdotes he overheard at school, mostly from standing outside the teachers lounge and listening to their lunchtime conversations. Later, he incorporated many of these anecdotes into stories. While in college, he and an illustrator friend, Nicole Rubel, began working on picture books. After a series of well-deserved rejections, they published their first book, Rotten Ralph, in 1976. It was a success and the beginning of Jack s career as a professional writer. Jack continued to write children s books and began to teach courses in children s book writing and children s literature. He developed the master s degree program in children s book writing at Emerson College and the Vermont College M.F.A. program for children s book writers. He now devotes his time to writing books and educational speaking. He lives with his family in Boston, Massachusetts.

NICOLE RUBEL has illustrated more than fifty books for children, including the Rotten Ralph series by Jack Gantos, which has been in print for more than twenty years. She lives in Oregon.
Praise For The Nine Lives of Rotten Ralph…
"At his owner Sarah's request, a forlorn Ralph recaps (in thought bubbles) how he lost his eight lives, providing a quick tour of his previous eight picture-book misadventures, a reminder of just how uproarious—and timeless—these stories are . . . Gantos and Rubel remain in perfect comic sync, as wryly understated text and dynamic art deliver Ralph at his rotten best."--Publishers Weekly, starred review

"As chubby and malicious-looking as ever, Ralph occupies the visual center in each of Rubel's bright, stylized scenes and, 33 years since his first outing, is as much a poster cat for vicarious acting-up as ever. His resolve to live his last life as vigorously as his first eight may inspire adult readers more than children, but there's nothing wrong with that."--Kirkus Reviews

"Rubel and Gantos have always been the perfect wicked team, and Rubel's sly caricatured art vividly fills in the details of Ralph's memories as he recounts to Sarah how each life got starved, shaken, carried, and snowballed away in one of the previous picture books. Does this mean Ralph will from now on adhere to Sarah's prescription of an extra-cautious ninth life, spent riding in a baby carriage, downing vitamins, and never going outside to carouse with his alley-cat buddies? Ralph fans know the answer already."--Horn Book

"Deadpan storytelling and brightly colored, somewhat zany ink-and-wash artwork combine for a decidedly droll and sometimes hilarious picture book"--Booklist

"Ralph's fans won't want to miss this latest offering."--School Library Journal