The Invention of Everything Else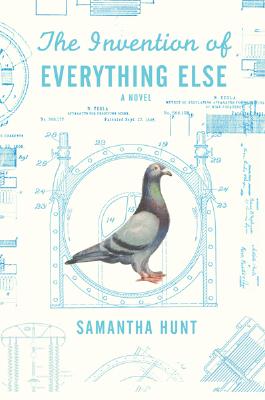 The Invention of Everything Else
Houghton Mifflin Harcourt, Hardcover, 9780618801121, 272pp.
Publication Date: February 1, 2008
* Individual store prices may vary.
Buy at Local Store
Enter your zip code below to purchase from an indie close to you.
or
Not Currently Available for Direct Purchase
Description
New York City thrums with energy, wonder, and possibility in this magical novel about the life of Nikola Tesla.
It is 1943, and the renowned inventor Nikola Tesla occupies a forbidden room on the 33rd floor of the Hotel New Yorker, stealing electricity. Louisa, a young maid at the hotel determined to befriend him, wins his attention through a shared love of pigeons; with her we hear his tragic and tremendous life story unfold. Meanwhile, Louisa discovers that her father and her handsome, enigmatic love interest, Arthur Vaughan are on an unlikely mission to travel back in time and find his beloved late wife. A masterful hybrid of history, biography, and science fiction, "The Invention of Everything Else" is an absorbing story about love and death and a wonderfully imagined homage to one of history's most visionary scientists.
Praise For The Invention of Everything Else…
"An engaging portrait...and a poignant one of Tesla...There's much food for thought here and some very beautiful prose." Kirkus Reviews

"Hunt (The Seas) delivers a breathtaking novel that is both difficult to classify and impossible to ignore." Library Journal

"Oddly charming and pleasantly peculiar, Hunt's novel offers a unique perspective on hope and imagining life's possibilities." Booklist, ALA

"Inspires both awe and envy…Hunt seems to achieve this blend effortlessly…making it more remarkable still with her own offbeat sensibility." Bookpage

"A New York City chambermaid sparks a friendship with oddball inventor Nikola Tesla in Samantha Hunt's dazzling novel." Vanity Fair

"Sophisticated pastiche of science fiction, fantasy, melodrama, and historical anecdote...It all adds up to a precocious math of human marvel." Elle

"Former real-life scientist Nikola Tesla befriends a fictional hotel chambermaid in Samantha Hunt's ingenious work of historical fiction." Marie Claire

"Hunt's magical new novel is a love letter to one of the world's most remarkable inventors…For a moment…everything seems possible." The Washington Post

"[Hunt] puts her considerable talents to work…Tesla's story…is crafted with an intensity...that makes the heart beat faster." Los Angeles Times

"Full of vivid imagery, sounds, memories…this novel is a sweet story of just how normal it is to be different." Boston Globe

"Hunt's history-steeped tale…reminds us that science necessitates creativity, which also, of course, is the essence of literature." The San Francisco Chronicle

"In her vivid reimagining…Hunt pursues the links between science and creativity and storytelling and invention to their logical extreme." New York Magazine

"Glorious…pages of prose: daring and delicious, perfectly calibrated, fresh but not raw, original but neither off-putting nor disconcertingly strange." The Chicago Tribune

"[INVENTION is] a smart, colorful novel about aspiration and wish fulfillment in a world…engineers can't control." - The Believer

"Hunt's fascination with language is unmistakable, resulting in beautiful, intimate observations . . . elegant, inspired." The Village Voice

"Marvelous…one wishes these scenes would never end…[it] takes its readers back to a kindler, gentler New York." - LA Weekly

"Hunt weaves the stranger-than-fiction facts…into an engaging novel…that crackles with the possibility and promise of scientific innovation." - Seed

"An electrified, magnetized concoction that pleases, teases and dazzles…takeoff soaring with her, you will not be disappointed..." - The Oregonian

"The author is rapturous, vividly in love with her subjects and her characters." - New York Observer

"[Hunt's] novel might be 2008's 'Special Topics in Calamity Physics'…soulful and scientific at the same time." - Velocity Weekly

"Hunt weaves history and imagination to create a seductively original world…" -- Heidi Julavits, author of The Uses of Enchantment

"A highwire performance by a soulful and wildly intelligent writer." -- Rene Steinke, author of the NBA-nominated Holy Skirts

"You hold in your hands an important, fun, educational, magic read." -- Darin Strauss, author of Chang and Eng