The Big Roads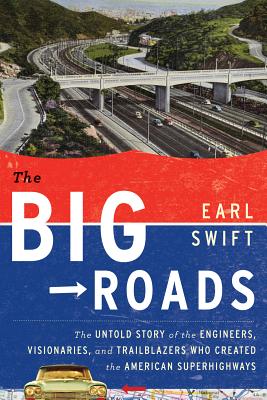 The Big Roads
The Untold Story of the Engineers, Visionaries, and Trailblazers Who Created the American Superhighways
Houghton Mifflin Harcourt (HMH), Hardcover, 9780618812417, 375pp.
Publication Date: June 9, 2011
* Individual store prices may vary.
Not Currently Available for Direct Purchase
or
Shop Local
Enter your zip code below to purchase from an indie close to you.
Description
A man-made wonder, a connective network, an economic force, a bringer of blight and sprawl and the possibility of escape the U.S. interstate system changed the face of our country. "The Big Roads" charts the creation of these essential American highways. From the turn-of-the-century car racing entrepreneur who spurred the citizen-led Good Roads movement, to the handful of driven engineers who conceived of the interstates and how they would work years before President Eisenhower knew the plans existed to the protests that erupted across the nation when highways reached the cities and found people unwilling to be uprooted in the name of progress, Swift follows a winding, fascinating route through twentieth-century American life.
How did we get from dirt tracks to expressways, from main streets to off-ramps, from mud to concrete and steel, in less than a century? Through decades of politics, activism, and marvels of engineering, we recognize in our highways the wanderlust, grand scale, and conflicting notions of citizenship and progress that define America.
About the Author
Journalist Earl Swift has written five books, including The Big Roads: The Untold Story of the Engineers, Visionaries, and Trailblazers Who Created the American Superhighways (2011). Since 2012 he has been a residential fellow of the Virginia Foundation for the Humanities at the University of Virginia.
Praise For The Big Roads…
"America's interstate system tied together urban areas, bypassed thousands of small-town main streets, fanned the sprawl of suburbia, and sent millions of baby boomers on road trips with their parents, asking, 'Are we there yet?' With a great sense of how this changed the country, Earl Swift has told an intriguing tale of vision, personal sacrifice, and can-do determination." —Walter R. Borneman, author of Rival Rails: The Race to Build America's Greatest Transcontinental Railroad
"Objects in the rearview mirror prove eerily close on every page of this lively, eminently sensible history of the guardrailed monument to American mobility." —John R. Stilgoe, author of
Train Time: Railroads and the Imminent Reshaping of the United States Landscape
"A joy ride. Earl Swift has written the best kind of popular history--one that paints vivid portraits, debunks myths and brings to life the fascinating and appalling stories behind the creation of that massive mixed blessing known as America's interstate highways."—Bill Morris,
author of
Motor City
"The book is a road geek's treasure—and everyone who travels the highways ought to know these stories." —
Kirkus
"Readers interested in urban planning as well as engineering will find a well-told story about a defining American feature." —Publishers Weekly
Friday, Sep 2, 2011
In his new book The Big Roads: The Untold Story of the Engineers, Visionaries, and Trailblazers Who Created the American Superhighways writer Earl Swift looks at the history and people behind the world's largest public works project-- the U.S. interstate superhighway system. More at NPR.org