The House in the Night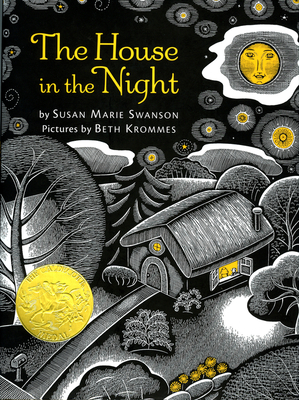 The House in the Night
Houghton Mifflin, Hardcover, 9780618862443, 38pp.
Publication Date: May 1, 2008
* Individual store prices may vary.
Buy Now
or
Shop Local
Enter your zip code below to purchase from an indie close to you.
Description
2009 Caldecott Medal Winner A spare, patterned text and glowing pictures explore the origins of light that make a house a home in this Caldecott Medal-winningbedtime book for young children. Naming nighttime things that are both comforting and intriguing to preschoolers a key, a bed, the moon this timeless book illuminates a reassuring order to the universe.
About the Author
Susan Marie Swanson is an award-winning poet and the author of several children's books. She lives in St. Paul, Minnesota.


Beth Krommes received the Caldecott Medal for The House in the Night" by Susan Marie Swanson. She lives with her family in Peterborough, New Hampshire.
Praise For The House in the Night…
"Krommes's widening perspective manages to exude both comfort and daring." -- New York Times Book Review   "Here the art is spectacular. Executed in scratchboard decorated in droplets of gold, Krommes' illustrations expand on Swanson's reassuring story (inspired by a nursury rhyme that begins, "This is the key of the kingdom") to create a world as cozy inside a house as it is majestic outside."--Booklist, starred review   "Inspired by traditional cumulative poetry, Swanson weaves a soothing song that is as luminescent and soulful as the gorgeous illustrations that accompany her words. . . . It is a masterpiece that has all the hallmarks of a classic that will be loved for generations to come."--School Library Journal, starred review   "Krommes's breathtaking scratchboard illustrations, in black and white with accents of yellow and gold, embody and enhance the text's message that light and dark, like comfort and mystery, are not mutually exclusive, but integral parts of each other."--Kirkus Reviews, starred review   "This volume's artful simplicity, homely wisdom and quiet tone demonstrate the interconnected beauty and order of the world in a way that both children and adults will treasure."--Publishers Weekly, starred review   "...in another standout performance by an illustrator, Beth Krommes makes a case for The House in the Night with scratchboard images that are themselves a throwback, but with a welcome kind of familiarity... I can see a night-skittish child taking comfort in this story at bedtime."-- The Washington Post (online)   "[A] book of stunning visual simplicity . . . The pictures themselves seem to reach out from domesticity toward infinity."--Liz Rosenberg, Boston Sunday Globe   "It's Wanda Gag meets Virginia Lee Burton.  And gorgeous.  Did I mention gorgeous?  Gorgeous."-- Fuse 8 Production (online), by Betsy Bird   "[Swanson] has a lyrical style all her own, complemented by Krommes' starkly stunning scratchpaper drawings."-- StarTribune