Trouble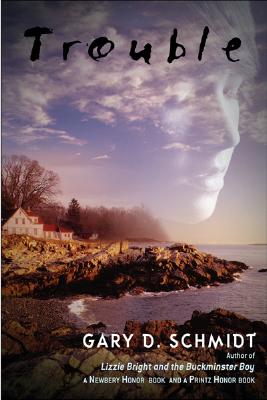 Trouble
Clarion Books, Hardcover, 9780618927661, 297pp.
Publication Date: April 21, 2008
* Individual store prices may vary.
Not Currently Available for Direct Purchase
or
Shop Local
Enter your zip code below to purchase from an indie close to you.
Description
Henry Smith's father told him that if you build your house far enough away from Trouble, then Trouble will never find you.
But Trouble comes careening down the road one night in the form of a pickup truck that strikes Henry's older brother, Franklin. In the truck is Chay Chouan, a young Cambodian from Franklin's preparatory school, and the accident sparks racial tensions in the school and in the well-established town where Henry's family has lived for generations. Caught between anger and grief, Henry sets out to do the only thing he can think of: climb Mt. Katahdin, the highest mountain in Maine, which he and Franklin were going to climb together. Along with Black Dog, whom Henry has rescued from drowning, and a friend, Henry leaves without his parents knowledge. The journey, both exhilarating and dangerous, turns into an odyssey of discovery about himself, his older sister, Louisa, his ancestry, and why one can never escape from Trouble.
About the Author
Gary D. Schmidt is the bestselling author of Okay For Now, the Newbery Honor and Printz Honor book Lizzie Bright and the Buckminster Boy, and the Newbery Honor book The Wednesday Wars. He is a professor of English at Calvin College in Grand Rapids, Michigan.
Praise For Trouble…
"Nothing is at it seems when Trouble arrives in varied and symbolic ways for two families and two communities. Franklin Smith, the arrogant scion of an aristocratic New England family, is accidentally struck while running and subsequently dies. The blame is accepted by a classmate, a Cambodian immigrant from a nearby town. When legal technicalities prevent Chay Chouan from being jailed, the perceived miscarriage of justice reverberates through idyllic Blythbury-by-the-Sea. Franklin's younger brother, Henry, becomes determined to climb Mount Katahdin, a feat that Franklin had coldly suggested might prove Henry had guts. Henry sets out hitchhiking for the mountain with best friend question. Somewhat improbably they are picked up by Chay, who has been expelled by his father and is now driving the truck that killed Franklin. Their symbolic journey predictably includes moments of danger, self-discovery, and reconciliation, fortunately leavened by the humorously ironic Sanborn. Complex structure allows revelations into the character of Chay, child of a violent refugee camp, unwanted product of rape, lover of poetry, and protector of Henry's sister (in a Romeo-and-Juliet twist). Teeming with plot elements, some of which may seem too purposeful, and richly veined with social and psychological crosscurrents, this story may be seen as allegorical in its intent and representation. Nevertheless it contains Schmidt's eloquent language and compelling characters, as well as compassionate examinations of the passage from childhood to adulthood and of the patters of common experience and mark and unite us as humans."--School Library Journal, starred review

"Henry and his family live the charmed existence of the well-bred, well-heeled New England old-money crowd, exemplified by successful, professional parents, a coastal home that has been in the family for hundreds of years, and bright, athletic children attending posh private academies and always rising to the challenges expected of them. That world shatters when Franklin, Henry's elder brother and role model, is hit by a truck belonging to Chay Chouan, the son of a Cambodian refugee, leaving Franklin with only one arm and indeterminate brain activity. Flurries of violence erupt as Franklin's fellow lacrosse players vent their rage on the Cambodian community, and Henry begins to question whether Franklin was such a good role model after all, given as he was to racially motivated bullying even before the accident. Henry decides that he needs to follow through on a plan that Franklin used to taunt him with, climbing a dangerous mountain as a rite of passage into Franklin's kind of macho manhood. Henry's version of the plan, though, leads to forgiveness as he hitches a ride with Chay of all people, and he learns secrets about his brother, his sister, and Chay that lead him to quesion the kind of person he wants to be. Schmidt creates a rich and credible world peopled with fully developed characters who have a lot of complex reasoning to do, reckoning that involves confronting issues of white privilege and responsibility for racial reconciliation and acceptance. In the midst of the drama, a hurricane uncovers a burned-out slave ship that belonged to Henry's ancestor; its presence, along with an encounter with some Vietnam vets, ups the ante on the white guilt message just in case you weren't paying attention, and thus seems a bit gratuitous. Schmidt's prose, however, is flawless, and Henry's odyssey of growth and understanding is pitch-perfect and deeply satisfying."--Bulletin of the Center for Children's Books

" 'If you build your house far enough from Trouble, then Trouble will never find you.' Such is the credo of the fortunate Smith family of Blythbury-by-the-Sea, a (fictional) WASP-y outpost of Boston. But when Trouble arrives, it just keeps on coming. First, oldest son Franklin lies in a coma after being hit by a car; a young Cambodian immigrant is identified as the driver. Daughter Louisa, hugely distraught, retreats to her bedroom, and fourteen-year-old Henry is left on his own. With the newly adopted Black Dog, whom he's rescued from the sea, Henry sets off to climb Maine's Mt. Katahdin (as he and Franklin had planned to do together) and is joined by unexpected companions. Schmidt embarks on a road trip that limns the growing friendship of three unforgettable boys-Henry; his honest, aggravating best friend Sanborn; and the accused Cambodian boy, Chay Chuan. A host of coincidences strains credulity at times, but also allows for an extraordinary breadth, widening themes and resolving plot lines. Like Chaucer's pilgrims, Henry, Chay, and Louisa all have to find their way to grace. The accident that brings trouble to Henry and his family also brings self-realization and the uncomfortable knowledge that both Henry's idolized brother and the vaunted history of the Smith family are not what they seem. Along with the pivotal role played by the enthusiastic Black Dog, rich secondary characters enhance a 1970s-set story that adds much to the discussion of how tragedy and racism affect individuals, families, and whole communities."--The Horn Book


"Tautly constructed, metaphorically rich, emotionally gripping and seductively told,Schmidt's (The Wednesday Wars) novel opens in the 300-year-old ancestral home of Henry Smith, whose father has raised him to believe that 'if you build your house far enough away from Trouble, then Trouble will never find you.' With such an opening, it is inevitable that Trouble does find the aristocratic Smiths: Henry's older brother, Franklin, is critically injured by a truck. A Cambodian refugee named Chay, who attends the same school as Franklin, acknowledges responsibility, but over the course of Chay's trial it occurs, to Henry at least, that it was Franklin who sought Trouble: the racism he directed toward Chay specifically and Cambodian immigrants generally has been so widely shared in the community that no one challenged it. Twin sequences of events plunge the Smiths and Chay into further tragedy, also revealing the ravages of Chay's childhood under the Khmer Rouge. At the same time, a storm exposes a charred slave ship long buried on the Smiths' private beach: it emerges that their house has been close to Trouble all along. For all the fine crafting, the novel takes a disturbingly broad-brush approach to racism. Characters are either thuggish or willfully blind or saintly, easily pegged on a moral scale-and therefore untrue to life."--Publishers Weekly

"One of children's literature's prose masters presents a typically deliberate tale of moral awakening. Henry Smith, younger son of a well-to-do Massachusetts family, finds his secure world rocked to its foundations when his jogging brother is critically injured by a pickup truck driven by a young Cambodian immigrant. His family falls apart. Three things keep Henry, too, from crumbling completely: his hatred for the boy who drove the truck, his love for the stray Black Dog he brings home and his determination to climb Maine's Mt. Katahdin, the mountain his brother teased him he'd never summit. The leisurely development of plot and characters allows the latter full emotional complexity and nuances the former with the layers of relationships that, willy-nilly, bind humanity together. One subplot too many-the wreck of a slaver appears on the Smiths' beach-results in a little too much Significant Musing and a wild coincidence that threatens the credibility of the whole. It's a measure of Schmidt's control in other realms that this still stands as a deeply moving and pleasurable read."--Kirkus Reviews