Flyover Lives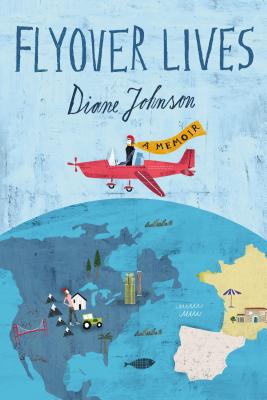 Flyover Lives
Viking Books, Hardcover, 9780670016402, 263pp.
Publication Date: January 16, 2014
* Individual store prices may vary.
Not Currently Available for Direct Purchase
or
Shop Local
Enter your zip code below to purchase from an indie close to you.
Description
"Smart . . . perceptive . . . "Flyover Lives "is a memoir of the Midwest sure to charm readers."
--Maureen Corrigan, NPR
From the "New York Times "bestselling author of "Le Divorce," a dazzling meditation on the mysteries of the "wispy but material" family ghosts who shape us
Growing up in the small river town of Moline, Illinois, Diane Johnson always dreamed of floating down the Mississippi and off to see the world. Years later, at home in France, a French friend teases her: "Indifference to history--that's why you Americans seem so naive and don't really know where you're from."
The "j'accuse" stayed with Johnson. Were Americans indifferent to history? Her own family seemed always to have been in the Midwest. Surely they had got there from somewhere? In digging around, she discovers letters and memoirs written by generations of stalwart pioneer ancestors that testify to more complex times than the derisive nickname "The Flyover" gives the region credit for.
With the acuity and sympathy that her novels are known for, she captures the magnetic pull of home against our lust for escape and self-invention. This spellbinding memoir will appeal to fans of Bill Bryson, Patricia Hampl, and Annie Dillard.
About the Author
Diane Johnson is the author of many works of fiction and non-fiction including Le Mariage, Fair Game, and Lesser Lives. She is a two-time finalist for both the Pulitzer Prize and the National Book Award.
Praise For Flyover Lives…
Praise for Flyover Lives by Diane Johnson:

"[A] vivid . . . quest for roots. Johnson strikes an elegiac note in her cullings of family and national history . . . splendid."
—The New York Times Book Review
 
"Smart and engaging . . . [A] singularly agreeable and appealing book."
—The Washington Post
 
"Smart . . . perceptive . . . Flyover Lives is a memoir of the Midwest sure to charm readers . . . Johnson vividly reminds us that the country we're all from is the unfamiliar one called the past."
—Maureen Corrigan, NPR

"Delightful . . . compelling and entertaining. . . . Johnson has a sharp eye for detail, and . . . her storytelling brings [the] past vividly to life."
—Chicago Tribune
 
"Solid Midwestern values seasoned by charm, affection, and lovely writing provide a welcome detour off the tabloid [memoir] path. . . . [It's an] absolute pleasure [to be] in the company of a skilled writer who so eloquently examines the people and geography that shaped her."
—Boston Globe
 
"Like her heroines, Johnson appears to have a boundless curiosity about the world and its inhabitants . . . What gives her memoir its charm and makes it so consistently beguiling is . . . the tone in which she relates her recollections, reflections, and discoveries. Fans of her novels will recognize the cheerful, wry bemusement, the rare combination of optimism and clear-sightedness, the humor and the intelligence we have come to expect from her fictional first-person narrators, and from the knowing voice that moves seamlessly from the consciousness of one character to another."
—Francine Prose, The New York Review of Books

"Johnson seeks to understand how [her family] history has shaped her character, and when she describes her time as a screenwriter and a young mother with four children in nineteen-sixties England, her cheerful pragmatism and unsparing work ethic do seem tied to the can-do spirit of her ancestors."
—The New Yorker

"Charming."
—San Francisco Chronicle
 
"Engaging and filled with feeling for an America that is gone forever."
—Christian Science Monitor
 
"Diane Johnson's wry new memoir is an absorbing exploration of the people and places that have shaped her. . . . By investigating the lives of her ancestors, Johnson finds that there are no 'flyover' lives, and that every person has a story worth telling."
—BookPage

"Johnson is a felicitous writer, cheerfully alert to irony and absurdity. The unfailing deftness of the prose makes this book a pleasure."
—Kirkus Reviews

"Adeptly structured, incisive, funny, and charming, Johnson's look back delves into deep questions of history and inheritance. . . . Keenly observed."
—Booklist

"Award-winning novelist and essayist Diane Johnson explores her Midwestern roots and family history in this charming and candid memoir. . . . An enjoyable peek into how America shaped one celebrated author's consciousness."
—Publishers Weekly
Friday, Jan 31, 2014
Diane Johnson often writes about American heroines living in France, but when she began her memoir, she found herself drawn back to her native ground in America's heartland. Critic Maureen Corrigan says Flyover Lives "lets scenes and conversations speak for themselves, accruing power as they lodge in readers' minds." More at NPR.org
Saturday, Jan 25, 2014
Diane Johnson has spent much of her adult life living in France, writing novels like Le Divorce. But it was not until a visit home, to the Midwestern town of Moline, IL, that the Johnson discovered that her pioneer ancestors had lives worthy of writing about. Her new book, Flyover Lives reconstructs their stories. More at NPR.org