The Magicians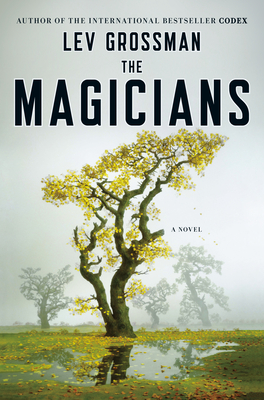 The Magicians
Viking Adult, Hardcover, 9780670020553, 416pp.
Publication Date: August 11, 2009
* Individual store prices may vary.
Shop Local
Enter your zip code below to find indies closest to you.
Description
The "New York Times" bestselling novel about a young man practicing magic in the real world, soon to be an original series on Syfy
"The Magicians "is to Harry Potter as a shot of Irish whiskey is to a glass of weak tea. . . . Hogwarts was never like this.
George R.R. Martin
Sad, hilarious, beautiful & essential to anyone who cares about modern fantasy.
Joe Hill
A very knowing and wonderful take on the wizard school genre.
John Green
"The Magicians "may just be the most subversive, gripping and enchanting fantasy novel I ve read this century.
Cory Doctorow
Like everyone else, precocious high school senior Quentin Coldwater assumes that magic isn't real, until he finds himself admitted to a very secretive and exclusive college of magic in upstate New York. There he indulges in joys of college-friendship, love, sex, and booze- and receives a rigorous education in modern sorcery. But magic doesn't bring the happiness and adventure Quentin thought it would. After graduation, he and his friends stumble upon a secret that sets them on a remarkable journey that may just fulfill Quentin's yearning. But their journey turns out to be darker and more dangerous than they'd imagined. Psychologically piercing and dazzlingly inventive, "The Magicians," the prequel to the "New York Times "bestselling book "The Magician King "and the #1 bestseller"The Magician's Land," is an enthralling coming-of-age tale about magic practiced in the real world-where good and evil aren't black and white, and power comes at a terrible price.
"From the Trade Paperback edition.
About the Author
LEV GROSSMAN is a senior writer and book critic for Time magazine and author of the international bestselling novel Codex. He is also the creator of the Time blog Nerd World. Grossman holds degrees in comparative literature from Harvard and Yale. He lives in Brooklyn, NY.
Praise For The Magicians…
"Fantasy fans can't afford to miss the darkly comic and unforgettably queasy experience of reading this book-and be glad for reality."
-Booklist (Starred Review)

"This is a book for grown-up fans of children's fantasy and would appeal to those who loved Donna Tartt's The Secret History. Highly recommended."
-Library Journal (Starred Review)

"Very dark and very scary, with no simple answers provided-fantasy for grown- ups, in other words, and very satisfying indeed."
-Kirkus Reviews

"... provocative, unput-downable ... one of the best fantasies I've read in ages."
-Fantasy & Science Fiction

"The Magicians is to Harry Potter as a shot of Irish whiskey is to a glass of weak tea."
-George R.R. Martin, bestselling author of A Game of Thrones

"Stirring, complex, adventurous ... from the life of Quentin Coldwater, his slacker Park Slope Harry Potter, Lev Grossman delivers superb coming of age fantasy."
-Junot Diaz, Pulitzer-prize winning author of The Brief Wondrous Life of Oscar Wao

"The Magicians ought to be required reading for anyone who has ever fallen in love with a fantasy series, or wished they went to a school for wizards."
-Kelly Link, author of Magic for Beginners and Stranger Things Happen

"The Magicians is a spellbinding, fast-moving, dark fantasy book for grownups that feels like an instant classic."
-Kate Christensen, PEN/Faulkner award winning author of The Great Man and The Epicure's Lament

"The Magicians is fantastic. It's strange, fanciful, extravagant, eccentric, and truly remarkable-a great story, masterfully told."
-Scott Smith, bestselling author of The Ruins and A Simple Plan

"Remember the last time you ran home to finish a book? This is it, folks. The Magicians is the most dazzling, erudite and thoughtful fantasy novel to date."
-Gary Shteyngart, author of Absurdistan and The Russian Debutante's Handbook

"The Magicians brilliantly explores the hidden underbelly of fantasy and easy magic ... It's like seeing the worlds of Narnia and Harry Potter through a 3-D magnifying glass."
-Naomi Novik, author of His Majesty's Dragon

"Grossman clearly has read his POtter and much more. While this story invariably echoes a whole body of romantic coming-of-age tales, Grossman's American variation is fresh and compelling. Like a jazz musician, he riffs on Potter and Narnia, but makes it his own."
--Washington Post

"Grossman skillfully moves us through four years of school and a postgraduate adventure, never letting the pace slacken...beguiling."
--Seattle Times

"An irresistible storytelling momentum makes The Magicians a great summer book, both thoughtful and enchanting."
--Salon

"Sly and lyrical, [The Magicians] captures the magic of childhood and the sobering years beyond."
--Entertainment Weekly

"...no doubt that this book is inventive storytelling and Grossman is at the height of his powers."
--Chicago Sun-Times

"The Magicians reimagines modern-day fantasy for grownups. [It] breathes life into a cast of characters you want to know...and does what [some] claim books never really manage to do: 'get you out, really out, of where you were and into somewhere better."
--Louisville Courier-Journal
Tuesday, Aug 11, 2009
At first glance, Lev Grossman's new novel looks very much like a Harry Potter story — with older characters and an American setting. But a heap of moral ambiguity surrounds the use of magic and there is no villain, giving the tale many shades of gray. More at NPR.org