Free Agent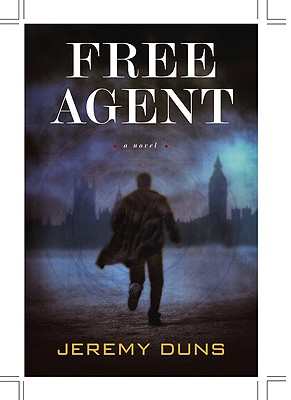 Free Agent
Viking Adult, Hardcover, 9780670021017, 352pp.
Publication Date: June 25, 2009
* Individual store prices may vary.
Not Currently Available for Direct Purchase
or
Shop Local
Enter your zip code below to purchase from an indie close to you.
Description
For fans of John le Carré, a riveting spy thriller that spans two continents and probes the limits of loyalty and love

Jeremy Duns's lightning-paced debut introduces a morally complex and unforgettable agent named Paul Dark into the canon of espionage literature. In June 1945, Dark joins his father in a top-secret mission to hunt down and unofficially execute Nazi war criminals. Almost twenty-five years later, Dark is a seasoned agent for MI6 when a KGB officer turns up in Nigeria during the Biafran civil war wanting to defect. He claims to have details of a British double agent recruited by the Russians in Germany in 1945.

Knowing he's the chief suspect and now on the run from both MI6 and the KGB, Paul Dark heads toward Africa to find, confront, and, if necessary, kill the only woman he has ever loved, whom he has thought dead for the past twenty-four years. Free Agent is the spectacular story of one man's fight for survival and search for the truth about his father's death and his lover's betrayal.
About the Author
Jeremy Duns grew up in Africa and Asia. A graduate of Oxford University, he worked as a journalist in Belgium for several years and now lives in Stockholm, Sweden, with his wife and two children. Free Agent is his debut novel and the first in a trilogy.
Praise For Free Agent…
"A wholly engrossing and sophisticated spy novel. Fascinating and compelling."
-William Boyd

"A sleek, fast-paced tale of espionage and international intrigue that held me utterly entranced. Duns is an exceptional talent. As I rapidly turned the pages I was transported back to the heyday of spy fiction and reminded of the best of le Carre, Deighton and Forsyth. Recommended without reservation."
- Christopher Reich, author of Rules of Deception

"Terse, sardonic and knowing, FREE AGENT is a take-no-prisoners exploration of loyalty, duplicity and love. I dare anyone to put this book down after reading the first electrifying chapter."
- Eric von Lustbader, author of First Daughter

"Unforgettable... An international espionage thriller par excellence. Lyrical prose, unforgettable characters, and a fascinating plot that doesn't release the panting reader until the last page. Free Agent is the beginning of a classic series that's sure to be a huge hit."
- Gayle Lynds, author of The Last Spymaster

"A wholly engrossing and sophisticated spy novel...Fascinating and compelling."
-William Boyd, author of Restless

"Jeremy Duns offers an entirely original and fascinating take on the classic spy novel in this provocative, fast-paced thriller. ...A compelling new voice in suspense fiction."
- Jeff Abbott, author of Panic and Trust Me

"An authentic espionage novel with accurate tradecraft and operatives who act with intelligence. Set in the Cold War, packed with history and tension, it's a must- read for any true spy-novel fan. If you like vintage John le Carre, you'll love FREE AGENT."
- David Morrell, author of The Brotherhood of the Rose