The Last Stand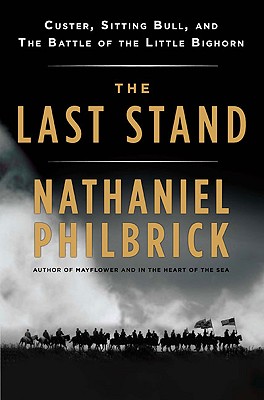 The Last Stand
Custer, Sitting Bull, and the Battle of the Little Bighorn
Viking Adult, Hardcover, 9780670021727, 496pp.
Publication Date: May 4, 2010
* Individual store prices may vary.
Buy at Local Store
Enter your zip code below to purchase from an indie close to you.
or
Not Currently Available for Direct Purchase
Description
Watch a video
Read discussion questions for "The Last Stand."
The bestselling author of "Mayflower" sheds new light on one of the iconic stories of the American West
Little Bighorn and Custer are names synonymous in the American imagination with unmatched bravery and spectacular defeat. Mythologized as Custer's Last Stand, the June 1876 battle has been equated with other famous last stands, from the Spartans' defeat at Thermopylae to Davy Crockett at the Alamo.
In his tightly structured narrative, Nathaniel Philbrick brilliantly sketches the two larger-than-life antagonists: Sitting Bull, whose charisma and political savvy earned him the position of leader of the Plains Indians, and George Armstrong Custer, one of the Union's greatest cavalry officers and a man with a reputation for fearless and often reckless courage. Philbrick reminds readers that the Battle of the Little Bighorn was also, even in victory, the last stand for the Sioux and Cheyenne Indian nations. Increasingly outraged by the government's Indian policies, the Plains tribes allied themselves and held their ground in southern Montana. Within a few years of Little Bighorn, however, all the major tribal leaders would be confined to Indian reservations.
Throughout, Philbrick beautifully evokes the history and geography of the Great Plains with his characteristic grace and sense of drama. "The Last Stand" is a mesmerizing account of the archetypal story of the American West, one that continues to haunt our collective imagination.
About the Author
Nathaniel Philbrick, is a leading authority on the history of Nantucket Island. His In the Heart of the Sea won the National Book Award. His latest book is Sea of Glory, about the epic U.S. Exploring Expedition of 1838–1842. His other books include Away off Shore: Nantucket Island and Its People, 1602-1890 (which Russell Baker called "indispensable") and Abram's Eyes: The Native American Legend of Nantucket Island ("a classic of historical truthtelling," according to Stuart Frank, director of the Kendall Whaling Museum). He has written an introduction to a new edition of Joseph Hart's Miriam Coffin, or The Whale Fisherman, a Nantucket novel (first published in 1834) that Melville relied upon for information about the island when writing Moby Dick. Phillbick's Why Read Moby-Dick? was a finalist for the New England Society Book Award.
Philbrick, a champion sailboat racer, has also written extensively about sailing, including The Passionate Sailor (1987) and Second Wind: A Sunfish Sailor's Odyssey. He was editor in chief of the classic Yaahting: A Parody (1984).
In his role as director of the Egan Institute of Maritime Studies, Philbrick, who is also a research fellow at the Nantucket Historical Association, gives frequent talks about Nantucket and sailing. He has appeared on "NBC Today Weekend", A&E's "Biography" series, and National Public Radio and has served as a consultant for the movie "Moby Dick", shown on the USA Network. He received a bachelor of Arts from Brown University and a Master of Arts in American Literature from Duke. He lives on Natucket with his wife and two children.
Praise For The Last Stand…
Praise for Mayflower, finalist for the Pulitzer Prize in History

"Vivid and remarkably fresh...Philbrick has recast the Pilgrims for our age of searching and turmoil."
—The New York Times Book Review

"A signal achievement. Philbrick enlightens and even astounds."
—Salon.com

Praise for Sea of Glory, winner of the Theodore and Franklin D. Roosevelt Naval History Prize

"Brilliantly told...has to be among the best nonfiction books of this or any other year."
—Los Angeles Time Book Review

"A breathtaking account of one of history's greatest adventures."
—Entertainment Weekly