The Doctor and the Diva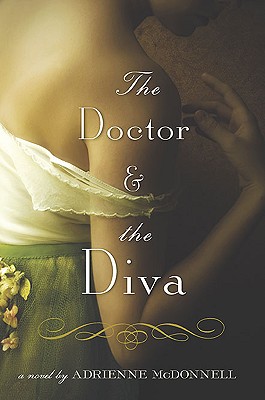 The Doctor and the Diva
Pamela Dorman Books, Hardcover, 9780670021888, 432pp.
Publication Date: July 22, 2010
* Individual store prices may vary.
Buy at Local Store
Enter your zip code below to purchase from an indie close to you.
or
Not Currently Available for Direct Purchase
Description
A breathtaking novel of romantic obsession, longing and one woman's choice between motherhood and her operatic calling
It is 1903. Dr. Ravell is a young Harvard-educated obstetrician with a growing reputation for helping couples conceive. He has treated women from all walks of Boston society, but when Ravell meets Erika-an opera singer whose beauty is surpassed only by her spellbinding voice-he knows their doctor-patient relationship will be like none he has ever had.
After struggling for years to become pregnant, Erika believes there is no hope. Her mind is made up: she will leave her prominent Bostonian husband to pursue her career in Italy, a plan both unconventional and risky. But becoming Ravell's patient will change her life in ways she never could have imagined.
Lush and stunningly realized, "The Doctor and the Diva" moves from snowy Boston to the jungles of Trinidad to the gilded balconies of Florence. This magnificent debut is a tale of passionate love affairs, dangerous decisions, and a woman's irreconcilable desires as she is forced to choose between the child she has always longed for and the opera career she cannot live without. Inspired by the author's family history, the novel is sensual, sexy, and heart-stopping in its bittersweet beauty.
Watch a Video
About the Author
Adrienne McDonnell has taught literature and fiction writing at the University of California, Berkeley. She lives near San Francisco in a house overlooking the Golden Gate Bridge.
Praise For The Doctor and the Diva…
"Some novels just naturally enslave you, and this is one of them.... serious and gripping... [a] brilliant debut novel..."
-The Washington Post

""...sumptuous... [an] explosive tale... Read the book now, then place bets on when the movie version will come out."
-Redbook

"... [an] engrossing tale."
-Good Housekeeping

"This amazing debut novel ... is, quite simply, one of the best novels I've read all year."
-an Editor's Choice selection, Historical Novels Review

"Classic storytelling and modern sensibility don't always come in the same package. But readers luck out with The Doctor and the Diva. A book to treasure and recommend."
-Bookpage

"Adrienne McDonnell has created a wonderful portrait of a talented and ambitious woman who also aspires to be a wife, a mother and a lover. From the moment we first meet Erika von Kessler, singing beside her uncle's grave, she casts a spell and one of the deep satisfactions of this richly imagined novel is that both her lover and her husband prove worthy of her. The Doctor and the Diva is an irresistible debut."
-Margot Livesey, author of The House on Fortune Street

"The Doctor and the Diva, based on old family letters, takes us on a fascinating journey into the hearts and minds of a woman and a man who commit the unthinkable. Brace yourself for the vortex of their deftly drawn lives."
-Cathy Marie Buchanan, author of The Day the Falls Stood Still

"Filled with frank sexuality and astonishing emotional intimacy, The Doctor and the Diva pulls you in and doesn't let go. This haunting and heartbreaking novel flows seamlessly from the medical consulting rooms of Boston to the opera stages of Italy and to the lush plantations of the Caribbean, sweeping you into a riveting story of complex individuals struggling with multi- layered passions and unflagging dreams."
-Lauren Belfer, author of City of Light and A Fierce Radiance

"It's very refreshing to read a serious novel whose author had been anointed with the gift of genuine story-telling. Adrienne McDonnell's The Doctor and the Diva takes her readers into strange and forbidden places, exotic countries and, best of all, the territory of the heart at its most naked and terrifying."
-Anne Bernays, author of Trophy House

"The Doctor and the Diva is an incredibly moving tale of passion, regret, and ultimate triumph. I loved it. Adrienne McDonnell has created some of the most memorable characters I've ever met. A superb achievement."
-Julie Garwood, bestselling author of Sizzle and Fire and Ice

"Love, the longing for family, the demands of art-in Adrienne McDonnell's absorbing debut, the life of a tempestuous diva struggling to reconcile conflicting desires itself becomes a kind of opera."
-Andrea Barrett, author of Ship Fever and The Air We Breathe

"Great storytelling and a very modern heroine-who just happens to be living in an era when women didn't dare admit to wanting it all, much less expect to get it. The Doctor and the Diva has the makings of a big success."
-Gail Godwin, author of Unfinished Desires and A Mother and Two Daughters

"The Doctor and the Diva is so beautifully written and lushly set it was impossible for me to put down, and the characters continue to haunt me long after I turned the last page."
-Sara Gruen, bestselling author of Water for Elephants and the forthcoming Ape House

"I don't know when I have been so completely entranced and held spellbound by a novel. The Doctor and the Diva is a brilliant, beautifully written story about the passions-career, romance, parenthood-that both unite and destroy lives. McDonnell is a masterful storyteller and an astute historian. This is a major accomplishment and marks the debut of a tremendous talent."
-Jill McCorkle, author of Going Away Shoes