Madame Bovary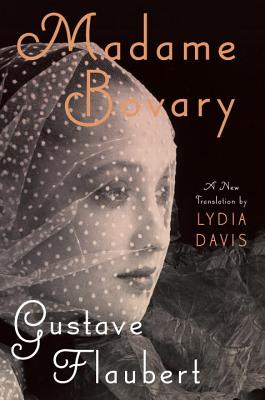 Madame Bovary
Provincial Ways
Viking Books, Hardcover, 9780670022076, 342pp.
Publication Date: September 23, 2010
* Individual store prices may vary.
Buy at Local Store
Enter your zip code below to purchase from an indie close to you.
or
Buy Here
Description
A literary event: one of the most celebrated novels ever written, in a magnificent new translation
Seven years ago, the incomparable Lydia Davis brought us an award-winning, rapturously reviewed new translation of Marcel Proust's"Swann's Way"that was hailed as "clear and true to the music of the original" ("Los Angeles Times") and "a work of creation in its own right" (Claire Messud, "Newsday"). Now she turns her gifts to the book that defined the novel as an art form.
When Emma Rouault marries dull, provincial doctor Charles Bovary, her dreams of an elegant and passionate life crumble. She escapes into sentimental novels but finds her fantasies dashed by the tedium of her days. Motherhood proves to be a burden; religion is only a brief distraction. She spends lavishly and embarks on a series of disappointing affairs. Soon heartbroken and crippled by debts, Emma takes drastic action with tragic consequences for her husband and daughter. When published in 1857, "Madame Bovary"was embraced by bourgeois women who claimed it spoke to the frustrations of their lives. Davis's landmark translation gives new life in English to Flaubert's masterwork.
About the Author
Known for his scrupulous devotion to his art and perfectionist style, French writer Gustave Flaubert is counted among the greatest Western novelists, and influenced such writers as Franz Kafka and J. M. Coetzee. Flaubert is best known for Madame Bovary, for which he was prosecuted (and acquitted) for offending public morals. His other works of note include Memoirs of a Madman, November, Salammb?, Sentimental Education, and The Temptation of Saint Anthony. His work has been widely adapted for the stage and screen. Flaubert died in 1880.

Lydia Davis is the author of four works of fiction and was named a Chevalier of the Order of Arts and Letters by the French government for her translations.
Praise For Madame Bovary…
"[Flaubert's] masterwork has been given the English translation it deserves."
-Kathryn Harrison, The New York Times Book Review

"[A] brilliant new translation."
-Lee Siegel, The New York Observer

"[Davis] has a finer ear for the natural cadences of English, in narrative and dialogue, than any of her predecessors, and there are many moments in her Madame Bovary when one pauses to admire how clean and spare a sentence seems by comparison with its earlier translated versions. . . . Only a very good writer indeed could have written it. . . . The bones of the original French show clearly through her English, and the rawness of her translation is, on the whole, invigorating."
-Jonathan Raban, The New York Review of Books

"How tickled Madame Bovary herself would be by the latest homage paid to her. . . . I'm grateful to Davis for luring me back to Madame Bovary and for giving us a version which strikes me as elegant and alive."
-Maureen Corrigan, NPR's Fresh Air

"Flaubert's obsessive masterpiece finally gets the obsessive translation it deserves."
-New York

"Davis is the best fiction writer ever to translate the novel. . . . [Her] work shares the Flaubertian virtues of compression, irony and an extreme sense of control. . . . Davis's Madame Bovary is a linguistically careful version, in the modern style, rendered into an unobtrusively American English."
-Julian Barnes, London Review of Books

"Davis captures with precision the sensitivity of the novel's language. . . . [Her] version . . . ultimately demonstrates her own empathy with Emma."
-The New Republic

"At last, the real Madame Bovary . . . The publication of the Davis version is an event. . . . Davis has come closer than any previous translator to capturing Flaubert's style and content accurately for English-language readers. . . . Her version benefits from her finesse as a writer and seems fresh and different compared to other translations."
-The American Spectator

"Davis has produced a very fine [translation that] displays a cool detachment not at all dissimilar to Flaubert's own."
-The New Criterion

"Davis [is] operating in top form in her new translation of Madame Bovary. . . . I was struck delirious by the force of Flaubert's writing, and the precision (the perfection) of Davis's translation."
-Macy Halford, The New Yorker's Book Bench

"Davis's edition should bring a new generation to Flaubert's classic of bourgeois ennui and adultery."
-Newsday

"A new translation that spans the ages [and] hews as close to the original as may be possible. . . . Davis's translation strives for-and largely achieves-the flavor of Flaubert's realism. . . . It provides such an unfussy, straightforward narrative that it underscores how truly modern a writer Flaubert was."
-BookPage

"Davis has forged a masterpiece out of a masterpiece. . . . This Madame Bovary is a veritable page-turner. . . . In French, the story leapt out at me like a hallucinatory Technicolor poem; in the lapidary English of Lydia Davis, I receive the same frisson of recognition-that the novel still lives. . . . Thanks to Lydia Davis, the book remains: a great, companionlike, eternal gilded mirror of Flaubert's world."
-Neil Baldwin, The Faster Times

"Davis . . . does a brilliant job of capturing Flaubert's diamond-hard style. . . . Davis's English prose has precisely the qualities she notes that Flaubert was striving for in French; it is 'clear and direct, economical and precise.' This translation reminds you what an aggressively modern writer Flaubert is."
-Kirkus Reviews

"[Davis] is one of the most innovative prose stylists of our time, and thus an excellent match for Flaubert's masterpiece. Flaubert's sentences are certainly sonorous in French, and the sentences in this translation reveal a similar attention to sound. . . . We are in debt to Flaubert for his influence on much of the writing we have today; the extent of our debt has never been so clear."
-The Believer

Acclaim for Lydia Davis and her translation of Swann's Way

"[Her] capacity to make language unleash entire states of existence reveals the extent to which Davis's fiction is influenced by her work as a translator."
-The New York Times

"Few writers now working make the words on the page matter more."
-Jonathan Franzen

"Davis is the best prose stylist in America."
-Rick Moody

"Swann's Way is transformed into something even more enchanting in Lydia Davis's new translation."
-Vanity Fair

"Davis is closer, much closer, to Proust's French. . . . [Her] Swann's Way is one of those translations . . . that put the question of languages out of your mind, and leave you only with questions of language."
-The Village Voice

"Accessible and faithful to Proust. Davis replicates the hesitations and digressions, the backward looks and forward glances that swell Proust's sentences and send them cascading to their conclusion-without sacrificing the natural air of his style."
-Los Angeles Times Book Review

"Davis is an extraordinary technician of language, capable of revealing elusive human tendencies through the most unusual means."
-Bookforum

"[Davis] commands language and imagery, playing the reader like a master."
-Los Angeles Times

"The subtleties of the French language, in spite of their difficulty, hold no secrets from you. . . . No literary genre deters you. You helped to make known to the English-speaking public some of the finest French literature of the century. . . . You have found a way not only to put your many talents at the service of the French language and culture, but also to place your stamp on the literary legacy of our times."
-French Insignia of the Order of Arts and Letters citation