The Better Angels of Our Nature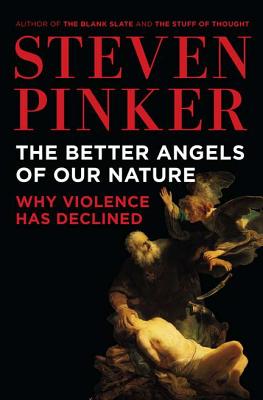 The Better Angels of Our Nature
Why Violence Has Declined
Viking Adult, Hardcover, 9780670022953, 832pp.
Publication Date: October 4, 2011
* Individual store prices may vary.
Not Currently Available for Direct Purchase
or
Shop Local
Enter your zip code below to purchase from an indie close to you.
Description
Selected by "The New York Times Book Review" as a Notable Book of the Year
The author of "The New York Times" bestseller "The Stuff of Thought" offers a controversial history of violence.
Faced with the ceaseless stream of news about war, crime, and terrorism, one could easily think we live in the most violent age ever seen. Yet as New York Times bestselling author Steven Pinker shows in this startling and engaging new work, just the opposite is true: violence has been diminishing for millennia and we may be living in the most peaceful time in our species's existence. For most of history, war, slavery, infanticide, child abuse, assassinations, pogroms, gruesome punishments, deadly quarrels, and genocide were ordinary features of life. But today, Pinker shows (with the help of more than a hundred graphs and maps) all these forms of violence have dwindled and are widely condemned. How has this happened?
This groundbreaking book continues Pinker's exploration of the essence of human nature, mixing psychology and history to provide a remarkable picture of an increasingly nonviolent world. The key, he explains, is to understand our intrinsic motives- the inner demons that incline us toward violence and the better angels that steer us away-and how changing circumstances have allowed our better angels to prevail. Exploding fatalist myths about humankind's inherent violence and the curse of modernity, this ambitious and provocative book is sure to be hotly debated in living rooms and the Pentagon alike, and will challenge and change the way we think about our society.
About the Author
Steven Pinker is one of the world's leading authorities on language and the mind. His popular and highly praised books include Words and Rules, How the Mind Works, and The Language Instinct. The recipient of several major awards for his teaching and scientific research, Pinker is Peter de Florez professor of psychology in the department of brain and cognitive sciences at the Massachusetts Institute of Technology.
Praise For The Better Angels of Our Nature…
"For anyone interested in human nature, the material is engrossing, and when the going gets heavy, Pinker knows how to lighten it with ironic comments and a touch of humor ... a supremely important book. To have command of so much research, spread across so many different fields, is a masterly achievement."
--The New York Times Book Review

"...an extraordinary range of research ... a masterly effort."
--The Wall Street Journal

" ...Better Angels is a monumental achievement. His book should make it much harder for pessimists to cling to their gloomy vision of the future. Whether war is an ancient adaptation or a pernicious cultural infection, we are learning how to overcome it."
--Slate.com
Friday, Oct 7, 2011
Considering the Norway shootings, drug wars in Mexico and ongoing conflicts in the Middle East, this era may seem as violent as any. But as Harvard psychologist Steven Pinker argues in his book The Better Angels of Our Nature, this may actually be the most peaceable period in human history. More at NPR.org