Slouching Toward Adulthood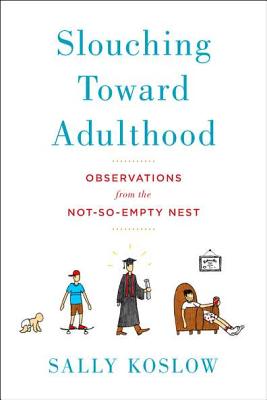 Slouching Toward Adulthood
Observations from the Not-So-Empty Nest
Viking Books, Hardcover, 9780670023622, 258pp.
Publication Date: June 14, 2012
* Individual store prices may vary.
Shop Local
Enter your zip code below to find indies closest to you.
Description
A witty and insightful report from the parenting trenches by the mother of two "adultescents"
Millions of American parents sit down to dinner every night, wondering why fully grown children are joining them or, more likely, grunting good-bye as they head out for another night of "who knows what." Sally Koslow, a journalist, novelist, and mother of two "adultescents" digs deep to reveal what lies behind the current generation's unwillingness or inability to take flight.
By delving into the latest research and conducting probing interviews with both frustrated parents and their frustrated offspring, Koslow uses humor, insight, and honest self-reflection to give voice to the issues of prolonged dependency. From the adultescent's relationship to work (or no work), money (that convenient parental ATM), or social life, "Slouching Toward Adulthood" is a provocative, razor-sharp, but heartfelt cri de coeur for all the parents who sent their kids to college only to have them ricochet home with a diploma in one hand and the DVR remote in the other.
About the Author
Sally Koslow, the author of Little Pink Slips, spent three decades working at women's magazines, most recently as the editor-in-chief of McCall's. Married and the mother of two sons, she lives in New York City. Visit her website at www.sallykoslow.com.
Praise For Slouching Toward Adulthood…
"Excellent…. At last, a serious, well-researched book about raising children which also includes that crucial characteristic every parent needs—a sense of humor." —Deirdre Donahue, USA Today

"An eye-opener…. Koslow writes wittily about the infantilization of American youth as increasing numbers treat getting a job and moving out as just an option." —People

"Smart, with plenty of insights and a lively prose style that should keep readers, especially the book's target audience of parents wondering why their grown-up kids are back living in their basements, engaged." —Booklist
"Koslow casts a keen eye on the 'not-so-empty-nest' phenomenon that besets today's baby boomer parents . . . and provides plenty of food for thought for parents and adultescents who want to understand each other and perhaps change things for the better." —Publishers Weekly
"This book is hilarious! I burst out laughing on page one, and it just got funnier and funnier. But Slouching Toward Adulthood is also hard-hitting and painfully insightful—I found myself wincing with recognition. Backed by the latest research, Sally Koslow's thought-provoking new book should be required reading for today's parents and young adults." —Amy Chua, professor of law at Yale University and author of Battle Hymn of the Tiger Mother
"Full of research, insight, and hilarious examples of what life is like for the long-suffering parents of 'adultescents,' Slouching Toward Adulthood is one of those invaluable books that identifies and illuminates a new phenomenon in our culture." —Gretchen Rubin, author of The Happiness Project
"Sally Koslow has really hit on something with her incisive Slouching Toward Adulthood. Memorable books that struck a chord about the path of life or the dissonance between parent and child—Gail Sheehy's Passages, Nancy Friday's My Mother/My Self—all had a kind of kitchen-table humanity and an ability to limn the unnamed conflicts of a particular moment. Beneath its jaunty two-drinks-with-your-coolest-friend ebullience, this book, as of its moment as those books were of theirs, has that resonance, too." —Sheila Weller, author of Girls Like Us
"Let go, Sally Koslow exhorts indulgent parents who lovingly enable their adultescents to postpone the rigors and responsibilities of being a grown-up. Koslow's wit and wisdom wake us up to the hidden costs of hanging on too long to our kids, to our youth, and to the past. A great read!" —Maggie Jackson, author of Distracted
"In her trenchant book on twenty-first-century life with our adult children, Sally Koslow offers us wit, awareness, and, most important, a sense that we are not alone. From the first pages, the reader feels right at home, comforted by Koslow's confessions, research, and wisdom." —Susan Shapiro Barash, author of You're Grounded Forever . . . But First Let's Go Shopping
"Sally Koslow has written a funny, shrewd, and true account of a problem the boomer generation didn't know it had created: the consequences of helicopter parenting. We've pampered our kids so much they don't want to grow up. Who can blame them? Slouching Toward Adulthood is the book that explains why 'the guest bedroom' is a thing of the past." —James Atlas, author of My Life in the Middle Ages 
Tuesday, Jul 17, 2012
Like millions of American parents, author Sally Koslow sent her children off to college, only to have them return home due to a bad economy and limited job options. In Slouching Toward Adulthood, Koslow shares her research and interviews on the phase she calls "adultescence." More at NPR.org