My Education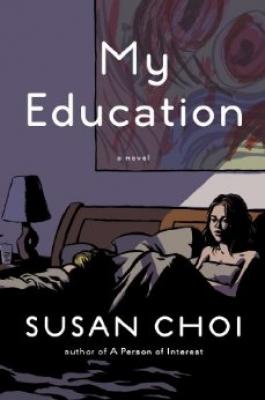 My Education
Viking Books, Hardcover, 9780670024902, 296pp.
Publication Date: July 3, 2013
* Individual store prices may vary.
Buy at Local Store
Enter your zip code below to purchase from an indie close to you.
or
Not Currently Available for Direct Purchase
Description
An intimately charged novel of desire and disaster from the author of "American Woman" and "A Person of Interest"
Regina Gottlieb had been warned about Professor Nicholas Brodeur long before arriving as a graduate student at his prestigious university high on a pastoral hill. He's said to lie in the dark in his office while undergraduate women read couplets to him. He's condemned on the walls of the women's restroom, and enjoys films by Roman Polanski. But no one has warned Regina about his exceptional physical beauty--or his charismatic, volatile wife.
"My Education" is the story of Regina's mistakes, which only begin in the bedroom, and end--if they do--fifteen years in the future and thousands of miles away. By turns erotic and completely catastrophic, Regina's misadventures demonstrate what can happen when the chasm between desire and duty is too wide to bridge.
About the Author
Susan Choi was born in Indiana and grew up in Texas. Her first novel, The Foreign Student, won the Asian-American Literary Award for Fiction and was a finalist for the Discover Great New Writers Award at Barnes & Noble. With David Remnick, she edited an anthology of fiction entitled Wonderful Town: New York Stories from the New Yorker. She lives in Brooklyn, New York.
Praise For My Education…

 
Praise for My Education

"The academic novel married to the novel of obsession is almost too pleasurable to contemplate, but that's what this book is…Choi's an extremely confident writer, and in My Education she beautifully explores the way a young person tries, and often fails, to navigate her budding and intersecting sexual, intellectual, and emotional lives.  The writing in this novel is masterful – but the book did something to me emotionally, too.  I felt like I was in an obsessive relationship with it.  I wanted to read it all the time."—Meg Wolitzer, npr.org
 
"A smart and witty novel about college life…by the force of her stylistic virtuosity and psychological precision, Choi gives this worn setup all the nubile energy of a new school year…what makes this so delicious, though, is Choi's relentless style, the unflagging force of her scrutiny…few other writers alive today make their sentences work so hard."—The Washington Post
 
"Captivating…in intimate, erotic detail, the novel tackles the brutality of love and how an innocuous flirtation can become an all-consuming affair…through her elegant layering of complex emotions, Choi shows that infatuation can drive even the most sensible person to the brink of self-destruction."—The San Francisco Chronicle

"Choi gets top marks for slyly re-inventing the affaire de l'Académie in My Education."—Vanity Fair
 
"A fascinating examination of sexual politics and the many disguises of desire."—The Daily Beast
 
"A scorching hot read…a chaise-lounge literary page-turner par excellence:  sexy, smart, well-plotted, jammed with observations witty and profound, and so well-written it occasionally leaves you gasping."—New York Newsday
 
"A tricky book to categorize.  On the one hand, it's a campus novel…At the same time, this is just the background against which the larger story unfolds.  What Choi is after is the elusive territory of experience, the way people and events imprint us when we're young and then linger, exerting a subtle pressure over how we live our lives."—The Los Angeles Times
 
"Explores a young heart and its painfully naïve and bold ways…It's The Graduate meets The L Word meets the Carey Mulligan flick An Education."—Marie Claire

"My Education is a raw, wild, hurtling foray into the tangled realms of sexuality and self-knowledge. Susan Choi's vast gifts as a novelist are all on display, with her restlessness, curiosity and sheer daring leading the way." —Jennifer Egan

"When I finished Susan Choi's My Education, I nearly gasped.  She had managed one of the most exquisite of the novelist's magic acts – produced a cogent, passionate, and surprising story, while acknowledging the ordinary, eroding aspects of lives lived daily.   She had populated it with remarkable but utterly believable characters.  She had written lines that could be framed, and displayed at a sentence festival.  She has, in short, written an amazing book." —Michael Cunningham