The Voice Is All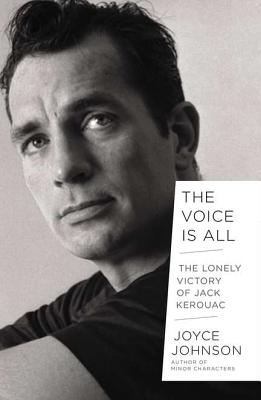 The Voice Is All
The Lonely Victory of Jack Kerouac
Viking Books, Hardcover, 9780670025107, 489pp.
Publication Date: September 13, 2012
* Individual store prices may vary.
Buy at Local Store
Enter your zip code below to purchase from an indie close to you.
or
Not Currently Available for Direct Purchase
Description
A groundbreaking portrait of Kerouac as a young artist from the award-winning author of "Minor Characters"
In "The Voice is All," Joyce Johnson, author of her classic memoir, "Door Wide Open," about her relationship with Jack Kerouac, brilliantly peels away layers of the Kerouac legend to show how, caught between two cultures and two languages, he forged a voice to contain his dualities. Looking more deeply than previous biographers into how Kerouac's French Canadian background enriched his prose and gave him a unique outsider's vision of America, she tracks his development from boyhood through the phenomenal breakthroughs of 1951 that resulted in the composition of "On the Road," followed by "Visions of Cody." By illuminating Kerouac's early choice to sacrifice everything to his work, "The Voice Is All" deals with him on his own terms and puts the tragic contradictions of his nature and his complex relationships into perspective.
About the Author
Joyce Johnson is the author of three novels, including "In the Night Caf," Her other books include "Minor Characters," which won the National Book Critics Circle Award, and "Door Wide Open: A Beat Love Affair in Letters," 19571958. Her articles and fiction have been published in major magazines, including "The New Yorker, Harpers, Vanity Fair," and "O Magazine,"
Praise For The Voice Is All…
Praise for The Voice Is All



"Spectacular…definitely the Kerouac book for our time…traces the birth of a literary genius and dispels many of the Kerouac myths:  that he wrote from memory, not the imagination, and that he wrote spontaneously and without revising…The Voice is All has a lot going for it, including the author's own confidence-inspiring voice that plunges readers into the maelstrom of Kerouac's intensely creative and yet intensely self-destructive life, and then pulls readers back and provides much needed detachment…Johnson knows how to create suspense and weave the complex lives of her characters into a narrative that rumbles along…her own voice is eloquent, her prose clear and crisp." —Jonah Raskin, The San Francisco Chronicle

 "A major new biography that traces the gradual emergence of the voice that came to define Kerouac's distinctive style of autobiographical fiction…Johnson redirects our focus to Kerouac's writing – an aspect that has been overshadowed by his legend…she suggests his internal struggle to navigate his mixed ethnic identity gave his prose a hard-earned depth and directness…By forcing us to reckon with Kerouac as a Franco-American author, Johnson has reminded us of the immense and often unseen burden of forging a life on the margins of two cultures – even for someone as emblematically American as Kerouac." —Lauren Du Graf, thedailybeast.com

                                                                  "In The Voice is All, Johnson brilliantly and intimately gets beyond the Kerouac legend to the solitary soul of the man...she has infused Kerouac's work with excitement, struggle, desperation, and love." —Royal Young, Interviewmagazine.com

                                                                  "Johnson has wisely chosen to emphasize the part of Kerouac's life all but lost in the Kerouac legend:  Behind the coast-to-coast craziness, the drug- and booze-inspired flights of mysticism, the Benzedrine-fueled writing sprees, a very serious writer was at work."  —Bill Marvel, The Dallas Morning News

"An exemplary biography of the Beat icon and his development as a writer…Johnson [turns] a laser-sharp focus on Kerouac's evolving ideas about language, fiction vs. truth and the role of the writer in his time…there's plenty of life in these pages to fascinate casual readers, and Johnson is a sensitive but admirably objective biographer.  A triumph of scholarship." – Kirkus Reviews

 "An intimate of Kerouac who has chronicled his life and the beat culture, Johnson brings an insider's perspective to this insightful study of how Kerouac found his literary voice…Johnson excels in her colorful, candid assessment of this evolution of this voice – up through the genesis of On the Road – the point where most other appraisals of Kerouac begin." – Publishers Weekly


"This is quite simply the best book about Kerouac and one of the best accounts of any writer's apprenticeship that I have read. And it should generate a serious reconsideration of Kerouac as a classical, because hyphenated, American writer, one struggling to synthesize a doubled language, culture, and class. It's also a terrific read, a windstorm of a story." —Russell Banks

 "Joyce Johnson brings her immense narrative gifts to this portrait of Jack Kerouac. In these pages, there is an intimacy of knowledge which renders previous accounts of Kerouac's life null and void -- and it's about time!  This is an indispensably honest book about an inimitable American writer, composed by an inimitable American writer." —Howard Norman

 "With The Voice Is All, Joyce Johnson has vaulted from memoir to biography, clearing every hurdle with a portrait of young Jack Kerouac that is as beautifully written as and even more enlightening than her classic Minor Characters. She illuminates the period, brings nuance and new information to twice-told tales, and recasts Kerouac from a beat to a writer. This is the way literary biography ought to be done and rarely is: a revelation." —Gary Giddins

"Only another writer could have given us this extraordinary portrait of a major artist's challenging apprenticeship and triumphant breakthrough into a new literary style and narrative form. Johnson takes us deep within Kerouac's creative process and tender, troubled psyche; to read The Voice Is All is at once exhilarating and heartbreaking. This is the definitive work on Kerouac, alive on every page; it is also yet another stunning achievement for Johnson herself, one of our most gifted, versatile and powerful writers." —Ann Douglas

 "Joyce Johnson's knowing and intimate The Voice Is All delivers the most ambitious of biographical results. She restores dignity and intellect to her subject, and gives her readers access to the poignant and complex young man behind all of that charismatic beat prose." —Brad Gooch

 "With eloquence and a wealth of detail, Joyce Johnson chronicles Kerouac's false starts, switchbacks, and re-tunings on his path to a fiction of sheer energy.  This remarkable  portrait of his early years gives a close view of the intense process of one writer's development." —Joan Silber

 "This biography of Jack Kerouac, the product of a lifetime of sifting truth from myth and ruminating about the subject, is arguably her best book.  There is a maturity, wisdom and compassion here that puts to shame most literary biographies." — Phillip Lopate 
   "We think of Kerouac as an overnight sensation, but Johnson tells a deeper and more surprising story.  Guided by memory of youthful intimacy with her subject and equipped with thorough knowledge of his works and access to newly opened archives, she strips away myth to give us a nuanced, engrossing biography – an indelible account of a hardworking young man's inspiring effort to become a great writer." —Honor Moore