Inside Rehab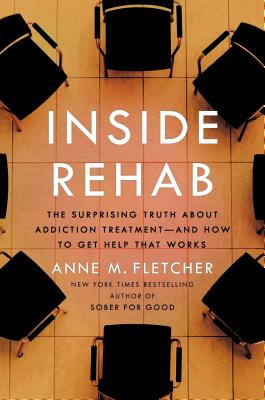 Inside Rehab
The Surprising Truth about Addiction Treatment--And How to Get Help That Works
Viking Books, Hardcover, 9780670025220, 429pp.
Publication Date: February 7, 2013
* Individual store prices may vary.
Buy at Local Store
Enter your zip code below to purchase from an indie close to you.
or
Not Currently Available for Direct Purchase
Description
An eye-opening tour of the addiction treatment industry explores the gap between what should happen and what does
What happens inside drug and alcohol rehabilitation centers and how rehab works are a mystery to those outside the industry and sometimes even to those inside it.

Anne M. Fletcher is a trusted "New York Times "bestselling health and medical writer who visited 15 addiction treatment centers from outpatient programs for the indigent to famous celebrity rehabs; from the sites of renowned Twelve-Step centers to several unconventional programs to find out what really happens. What she reveals ranges from inspirational to irresponsible, and, in some cases, potentially dangerous.
"Real Stories" As always with her books, Fletcher gets the inside story by turning to real people who have been there, interviewing more than 100 individuals whose compelling stories illustrate serious issues facing people in rehab and endemic in the rehab industry today.
"Connected Writer and Researcher" who has earned the respect (and cooperation) of experts throughout the fields she's taken on. "Inside Rehab" is no exception Fletcher has interviewed more than 100 professionals working in the field, including a mix of rehab staffers and administrators as well as leading academics.
Rehab is constantly covered in the media, as celebrities battle their drug and alcohol issues in the spotlight and reality TV puts recovery in prime time. Addiction is no longer only a personal struggle it's a pop culture phenomenon.
"Myth Busting" Fletcher exposes twelve supposed facts for the falsehoods they are, including rehab is necessary for most people to recover from addictions; highly trained professionals provide most of the treatment in addiction programs; and drugs should not be used to treat a drug addict. Fletcher's most important finding is the alarming discrepancy between the treatments being employed at many rehab centers and the treatments recommended by leading experts and supported by scientific research.
"Guidance and Practical Solutions" "Inside Rehab" also highlights what is working, spotlights state-of-the-art programs and practices, and offers advice and guidance for people seeking quality care and treatment for themselves or those they care about.
"Inside Rehab" is the first book to give readers a thoughtful, sensitive, and bracingly honest insider's view of the drug and alcohol rehab industry in America. For people seeking quality care for themselves or a loved one, "Inside Rehab" is essential reading, offering a wealth of accurate information and wise guidance.
About the Author
Anne M. Fletcher, M.S., R.D., is the author of Thin for Life, the Thin for Life Daybook, Eating Thin for Life, and Sober for Good. As a registered dietitian, she has counseled hundreds of clients with weight problems in clinical settings. Fletcher was executive editor of the Tufts University Health and Nutrition Letter and a contributing editor for Prevention. She has won several National Health Information Awards as well as awards from the American Medical Writers Association and the American Psychological Association. She has raised three teenagers.
Praise For Inside Rehab…
Praise for INSIDE REHAB:

"Eye-opening... Ms. Fletcher's book, replete with the experiences of treated addicts, offers myriad suggestions to help patients find addiction treatments with the highest probability of success." -Jane Brody, The New York Times
 

"The information and perspective Fletcher provides are indispensable. Anyone in the unfortunately position of needing her advice on how to find the best addiction treatment will find this book invaluable, but the rest of us have a lot to learn from it as well." –Salon.com

Inside Rehab is an invaluable addition to addiction literature. It is fascinating, insightful, and unafraid to upset the establishment. And Anne Fletcher is a measured, detailed, and insightful reporter.  Her book is also a great tool for any family struggling with an addicted loved one. Getting sober is hard. Staying sober is hard. Having more options to get clean just might mean that more people do so. –The New Republic

"Fletcher presents what works, why, where to find it, and how much it costs. It's startling, difficult, and important information for those traveling toward recovery, and anyone who wants to help." –Publishers Weekly (starred review)   "Too often there is a disconnect between what people with addiction need and what they get when it comes to treatment. Fletcher's Inside Rehab offers a compelling review of the many issues that are associated with this chasm. Like her stunning Sober for Good, Inside Rehab is a transformational read that distinguishes myth from reality in the murky and uncertain world of addiction treatment. Despite its revelations about the failings of addiction treatment, Inside Rehab offers important hope to those seeking help because it arms them with the critical information they need to evaluate and choose treatment options. Addiction treatment will be better for Fletcher's efforts. Make no mistake about it, this isn't just a useful guide to addiction treatment, Inside Rehab is landmark: it is a brave, bold and paradigm-shifting contribution to the literature. Inside Rehab is a must read for anyone with a stake in addiction treatment. Bravo!" –Howard J. Shaffer, Ph.D., Director, Division on Addiction, The Cambridge Health Alliance (A Harvard Medical School Teaching Affiliate); Associate Professor, Harvard Medical School   Inside Rehab is an invaluable addition to addiction literature. It is fascinating, insightful, and unafraid to upset the establishment. And Anne Fletcher is a measured, detailed, and insightful reporter.  Her book is also a great tool for any family struggling with an addicted loved one." –The New Republic

"This is an extraordinary book. I know of nothing like it. Objective, informative and in extraordinary detail, this book tells the truth about how addiction treatment measures up to modern science and medicine and how you can find a quality addiction treatment program. What would addiction treatment look like if it delivered the best proven treatment that we have to offer? This book gives us the answers and tells us how find these programs." –David C. Lewis, MD, Founder, Brown University Center for Alcohol and Addiction Studies   "An extensive, critical overview of modern treatment methods for substance abuse. A valuable guide for individuals seeking help and for their families, as well as for policymakers." –Kirkus   "The stigma, desperation, and fear that accompany addiction are so often exacerbated by our ignorance of where to turn for help, what to expect, and what to ask. No longer. This long overdue resource informs and empowers suffering individuals and families to know what effective treatment should look like, to ask the right questions, and ultimately, to obtain the quality care they deserve." –John F. Kelly, Ph.D. President, American Psychological Association's Society of Addiction Psychology; Associate Professor in Psychiatry, Harvard Medical School; Director, Addiction Recovery Management Service, Massachusetts General Hospital   "Inside Rehab is a valuable road map for navigating the multiple pathways and programs dealing with the problem of substance abuse." –Booklist (starred review)   "We finally have a book that takes an inside look at drug addiction treatment by blending an investigative-reporter feel with research-minded rigor. This book is invaluable for patients, policy makers, service providers and program administrators.  It also provides a fresh perspective on the complexities of treating a person suffering from the chronic disorder of alcoholism or drug addiction.  To accomplish this with such empathy toward the predicament faced by patients and treatment providers is a real achievement." –Ken C. Winters, Ph.D., Professor, Department of Psychiatry, University of Minnesota Medical School   "On average, from people all over the world, I receive at least five phone calls or emails weekly from family members or individuals seeking guidance about addiction treatment options. In particular, many of these inquiries involve getting help for co-occurring addiction and mental health problems, and frequently include stories about a negative treatment experience where one or the other of these disorders was not addressed. Fletcher's Inside Rehab provides individuals and family members such as these with a guide to making informed and better choices. This book is carefully researched, draws upon considerable expert opinion and research data, and communicates, with compassion, ideas about how to navigate this unnecessarily complex field. In essence, Inside Rehab reduces the caveat emptor element in making the best decision possible." –Mark P. McGovern, Ph.D., Associate Professor of Psychiatry and of Community & Family Medicine, The Geisel School of Medicine at Dartmouth   "Fletcher has written one of the most important clinical books in the past decade. Before spending a dime on rehab, for yourself or a loved one, read this book! Her work may do more to help more people to get and stay sober than millions spent in high dollar rehab facilities. I can only hope that her book encourages these same facilities to begin shaping their practices towards what works, rather than what sells. Fletcher did her homework, writing Inside Rehab, and it shows. –David Ley, Ph.D., author of The Myth of Sex Addiction   "Any person or family struggling with addiction should have this book no farther than their nightstand. This is THE definitive guide to effective rehab.  Many of the stories are heart-wrenching, and I couldn't put it down once I started reading it. Fletcher leaves virtually no stone unturned – not only do you get a cogent and highly informative summary of what good rehab should look like, you also get a bird's-eye view of what it's like to get good and bad treatment.  I'm going to make it required reading for everyone who comes to my center. Finally, consumers will have a way to know how best to help themselves or their family members." –Michael V. Pantalon, Ph.D., Research Scientist, Yale School of Medicine & CEO of the Center for Progressive Recovery   "With the degree of addiction in this country, cutting across all communities, this book looks to be an important purchase." –Library Journal  

Praise for Anne Fletcher's SOBER FOR GOOD:

"The press kit for Anne M. Fletcher's new book, Sober For Good, states, 'Sometimes one book can make a difference.' After reading the book, I could not agree more strongly." — Jane Brody, Health Columnist, The New York Times
"I think Anne's book should be required reading for counselors and other health care providers who work with recovering people. Her research has revealed and clarified some of the most important issues about how people recover and stay changed." — Howard Shaffer, Ph.D., Director, Division on Addictions, Harvard Medical School

"This is a wonderful book — well written, full of hope and useful information, and positive at every turn. It is remarkably balanced and constructive in a field that is often doctrinaire and partisan. A must-read for anyone concerned about their own or another's drinking, as well as for health-care professionals." — Barbara S. McCrady, Ph.D., clinical director, Center of Alcohol Studies, Rutgers University

"If you are considering a change in your drinking habits, there is no better place to start than Sober For Good. This is a comprehensive overview — a highly informative, scientifically accurate, and inspiring account of recovery in its many manifestations." — A. Thomas Horvath, past president, American Psychological Association, Addictions Division