Eliot Ness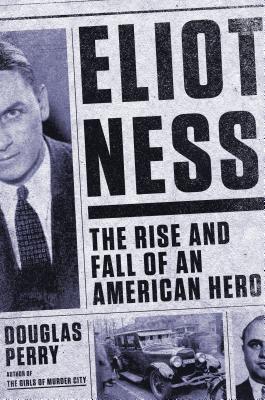 Eliot Ness
The Rise and Fall of an American Hero
Viking Books, Hardcover, 9780670025886, 335pp.
Publication Date: February 20, 2014
* Individual store prices may vary.
Buy at Local Store
Enter your zip code below to purchase from an indie close to you.
or
Not Currently Available for Direct Purchase
Description
The true story of Eliot Ness, the legendary lawman who led the Untouchables, took on Al Capone, and saved a city's soul
Eliot Ness is famous for leading the Untouchables against the notorious mobster Al Capone. But it turns out that the legendary Prohibition Bureau squad's daring raids were only the beginning. Ness's true legacy reaches far beyond Big
Al and Chicago.
"Eliot Ness" follows the lawman through his days in Chicago and into his forgotten second act. As the public safety director of Cleveland, he achieved his greatest success: purging the city of corruption so deep that the mob and the police were often one and the same. And it was here, too, that he faced one of his greatest challenges: a brutal, serial killer known as the Torso Murderer, who terrorized the city for years.
"Eliot Ness" presents the first complete picture of the real Eliot Ness. Both fearless and shockingly shy, he inspired courage and loyalty in men twice his age, forged law-enforcement innovations that are still with us today, and earned acclaim and scandal from both his professional and personal lives. Through it all, he believed unwaveringly in the integrity of law and the basic goodness of his fellow Americans.
About the Author
Douglas L. Perry is the Director of Marketing for Virtutech, Inc. He is the author of four editions of McGraw-Hill's "VHDL". He lives in San Ramon, California.
Harry D. Foster serves as Chairman of the Accellera Formal Verification Technical Committee, which is currently defining the PSL (Property Specification Language) standard. He is co-author of the new Kluwer Academic Publishers book "Assertion-Based Design." The Chief Methodologist at Jasper Design, Mr. Foster formerly was Verplex Systems' Chief Architect. He lives in Richardson, Texas.
Praise For Eliot Ness…
"This is rip-roaring stuff, and Mr. Perry tells it with gusto."
—The Wall Street Journal

"Perry takes plenty of detours beyond Ness's work history, exploring fascinating topics like an infamous Cleveland serial killer case, the evolution of law enforcement tactics, and the ever-present enticements wooing less-than-holy Chicago-area cops. But he doesn't need to wander afield when it comes to the dangerous missions by the "Untouchables" squad in Chicago: The action scenes are positively cinematic… Smart, authoritative, and bristling with challenges to the status quo: [Eliot Ness] has more than a little in common with its remarkable subject."
—The Christian Science Monitor

"[A] new and invaluable biography… [Perry] does justice to his subject, a complicated and self-destructive human being, but one who was also admired by many. He is a tragic rather than heroic figure, and Perry nails him with style and compassion."
—The Chicago Tribune

"Don't believe what you've seen in the movies. The true story of Eliot Ness is better than the Hollywood version, and Douglas Perry tells it brilliantly, with hard-nosed reporting and graceful prose. This book is so good even Al Capone would have enjoyed it, though perhaps grudgingly."
—Jonathan Eig, author of Get Capone: The Secret Plot That Captured America's Most Wanted Gangster
 
"Douglas Perry is telling three stories here, those of Eliot Ness, of criminal empires, and of America, each done with equal grace and skill. His superb research is matched by his understanding of Ness as a microcosm of these larger tales, and he recreates a man and a slice of American history with marvelous results. A truly remarkable book."
—Michael Koryta, New York Times Bestselling author of The Prophet  
 
"There's so much more to the complex life and career of Eliot Ness than the Untouchables and Al Capone, and now we finally have the whole fascinating story. Douglas Perry proves that well-researched truth always trumps one-dimensional mythology, especially when presented by a gifted storyteller. Eliot Ness is that rarity – an authentic page-turner."
—Jeff Guinn, author of Manson: The Life and Times of Charles Manson
 
"In this true crime page turner, Douglas Perry cuts through the myths surrounding the legendary lawman to reveal a figure far more flawed, complex—and fascinating—than the squeaky-clean do-gooder of "Untouchables" fame.  Readers will be riveted by Perry's gripping account of Ness's post-Chicago career, where, among other adventures, he found himself on the trail of one of America's most savage serial murderers, the maniac known as the Cleveland Torso Killer."
—Harold Schechter, author of The Mad Sculptor: The Maniac, the Model, and the Murder that Shook the Nation
 
"Finally, you can forget the over-dramatized accounts and Hollywood-hyped film portrayals of the past, and read Douglas Perry's masterfully researched and honest tale of the crime-fighting life and personal struggles of the famed Eliot Ness. This is story-telling at its finest...."
—Carlton Stowers, two-time Edgar winner
 
"Over time—thanks in great part to Hollywood, television, and even comic books—Ness's remarkable crime-fighting career has been reduced to his famous struggle against mobster Al Capone. At last here is Ness in his first, second, and final acts. A true account of his life that makes for a better story than Hollywood could have ever concocted."
—James McGrath Morris, author of The Rose Man of Sing Sing

    
"You may have thought you knew Eliot Ness, but Douglas Perry shows us that The Untouchables and taking down Capone were only the start of his story. Ness, though he went on to fight more gangsters and hunt a serial killer, was a far more complicated and flawed American hero than we previously realized."
—Paul French, author of Midnight in Peking

 
Saturday, Feb 15, 2014
Author Douglas Perry's new book, Eliot Ness: The Rise and Fall of an American Hero, paints a portrait of the legendary lawman as a flawed but genuinely good guy who floundered when away from the excitement of police work. Ness "helped invent the modern police force," Perry says, but couldn't stop drinking and cheating on his wives. More at NPR.org