Blood Aces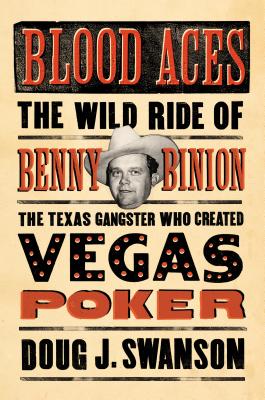 Blood Aces
The Wild Ride of Benny Binion, the Texas Gangster Who Created Vegas Poker
Viking, Hardcover, 9780670026036, 368pp.
Publication Date: August 14, 2014
* Individual store prices may vary.
Buy Now
or
Shop Local
Enter your zip code below to purchase from an indie close to you.
Description
The astonishing story of Benny Binion a rip-roaring saga of murder, money, and the making of Las Vegas
Benny Binion was many things: a cowboy, a pioneering casino owner, a gangster, a killer, and founder of the hugely successful World Series of Poker.
"Blood Aces" tells the story of Binion's crucial role in shaping modern Las Vegas. From a Texas backwater, Binion rose to prominence on a combination of vision, determination, and brutal expediency. His formula was simple: run a good business, cultivate the big boys, kill your enemies, and own the cops.
Through a mix of cold-bloodedness, native intelligence, folksiness, and philanthropy, Binion became one of the most revered figures in the history of gambling, and his showmanship, shrewdness, and violence would come to dominate the Vegas scene.
Veteran journalist Doug J. Swanson uses once-secret government documents and dogged reporting to show how Binion destroyed his rivals and outsmarted his adversaries including J. Edgar Hoover.
As fast paced as any thriller, "Blood Aces" tells a story that is unmatched in the annals of American criminal justice, a vital yet untold piece of this country's history.
About the Author
Doug Swanson is a Pulitzer-nominated journalist for The Dallas Morning News currently enjoying a fellowship at Stanford University. The author of three other Jack Flippo mysteries, Big Town, Dreamboat, and 96 Tears, he lives in Dallas, Texas, and Palo Alto, California.