The Kitchen Diaries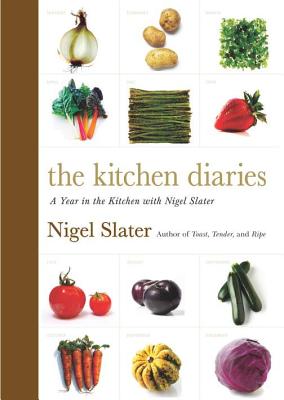 The Kitchen Diaries
A Year in the Kitchen with Nigel Slater
Viking Studio, Hardcover, 9780670026418, 392pp.
Publication Date: November 8, 2012
* Individual store prices may vary.
Buy at Local Store
Enter your zip code below to purchase from an indie close to you.
or
Buy Here
Description
Brought back by popular demand. Beloved food writer Nigel Slater presents a yearlong record of his cooking and entertaining, as well as endearing culinary stories and witticisms.
Nigel Slater writes about food in a way that stimulates the imagination, the heart, and the palate all at once. "The Kitchen Diaries" brings an especially personal ingredient to the mix, letting us glimpse into Nigel Slater's pantry, tour local farmers markets with him, and savor even the simplest meals at his table.
Recording twelve months in Nigel Slater's culinary life, "The Kitchen Diaries" shares seasonal dishes and the intriguing elements behind them. As someone who celebrates each visit to the cheese shop or butcher, he enthusiastically conveys the brilliant array of choices and views shopping as an adventure rather than a chore. If he feels like staying in, we spend the evening with him at his London flat, enjoying a creative combination of odds and ends from the fridge. A rainy day in February calls for a hearty stew; summertime finds him feasting on a simple lunch of baked tomatoes with grated Parmesan. No matter the season, "The Kitchen Diaries" offers a year-round invitation to cook and dine with the world's most irresistible lover of food.
About the Author
Nigel Slater is one of Britain s most highly regarded food writers. His beautifully written prose, warm personality and unpretentious, easy-to-follow recipes have won him a huge following. He writes an award winning weekly column in the Observer and edits their Food Monthly supplement, and he is a regular contributor to Sainsbury s The Magazine .

Paula Pryke runs a successful flower business with a reputation for innovative floral designs. Originally trained as a teacher, she has a flower school in London. Her work has been featured in all the leading magazines and she has been described by "Harpers and Queen" as the florist of the nineties. Paula Pryke Flowers is based at 20 Penton Street, London N1 9PS, England.
Jonathan Lovekin is a photographer whose work is highly respected and sought after by a wide range of clients. In addition to advertising campaigns, he has also been commissioned to produce editorial photographs for magazines such as "The World of Interiors" and "Harpers and Queen."