A Serpent's Tooth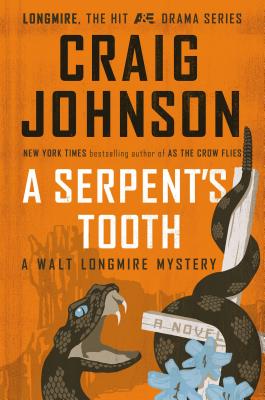 A Serpent's Tooth
A Walt Longmire Mystery
Viking, Hardcover, 9780670026456, 352pp.
Publication Date: June 4, 2013
* Individual store prices may vary.
Buy at Local Store
Enter your zip code below to purchase from an indie close to you.
or
Buy Here
Description
The inspiration for A&E's "Longmire" finds himself in the crosshairs in the ninth book of the "New York Times" bestselling series
The success of Craig Johnson's Walt Longmire series that began with "The Cold Dish" continues to grow after A&E's hit show "Longmire" introduced new fans to the Wyoming sheriff. "As the Crow Flies" marked the series' highest debut on the "New York Times" bestseller list. Now, in his ninth Western mystery, Longmire stares down his most dangerous foes yet.
It's homecoming in Absaroka County, but the football and festivities are interrupted when a homeless boy wanders into town. A Mormon "lost boy," Cord Lynear is searching for his missing mother but clues are scarce. Longmire and his companions, feisty deputy Victoria Moretti and longtime friend Henry Standing Bear, embark on a high plains scavenger hunt in hopes of reuniting mother and son. The trail leads them to an interstate polygamy group that's presiding over a stockpile of weapons and harboring a vicious vendetta.
About the Author
Craig Johnson has served in full-time ministry for more than two decades. He is currently the director of ministries at Lakewood Church, one of the largest and fastest-growing church in America, overseeing all pastoral ministries and staff, as well as serving as family ministries pastor. Previously, he served as co-chair for the Los Angeles Billy Graham Children's Crusade and as children's pastor at Faith Community Church in West Covina, California. Craig is the creator of many programming tools for children's ministry, including a new discipleship curriculum called Extreme Kids, launched at Lakewood Church in 2009. He and his wife, Samantha, have three children.
Praise For A Serpent's Tooth…
"Suspense propels the brisk plot, complemented by a sly sense of humor and a breathtaking look at Wyoming."—Publishers Weekly (Starred)

"Authentic....The story moves at a brisk pace, with room for some good-natured humor and plenty of gorgeous Wyoming scenery."—CNN.com



Praise for As the Crow Flies by Craig Johnson   AN INDIE NEXT PICK   "Walt continues to be excellent company because he's always keen to learn something from the strong Indian characters in this series…This time a wizened old medicine woman takes Walt in hand, guiding him through a Native American Church peyote ceremony deep in the woods…he [has] a vision that expands his mind and helps him solve the case."—Marilyn Stasio, The New York Times Book Review   "A top-notch tale of complex emotions and misguided treachery… Crow is a superb novel steeped in the culture of the American West."—USA Today
  "The pleasure of the series rests in Walt's narration, with its laid-back, observant, bemused recounting of events…Solid landscapes, a mélange of fully fleshed characters (familiar and new), drily laconic dialogue and assorted power struggles—including Walt's endless war with Rezdawg, Henry's recalcitrant, falling-apart truck—keep the latest in this rich and satisfying series on engaging course."—Houston Chronicle
  "Walt's voice lets readers in on his gentle and wry nature, while showcasing his devotion to bringing bad guys or gals to justice…Johnson enriches his narrative by using the setting itself as another well-developed character. Johnson's Northern Cheyenne characters defy stereotype with self-depreciating humor and strength. Chief Lolo Long and Tribal Chief Lonnie Little Bird are especially well-crafted and appealing."—The Denver Post
  "Johnson expertly highlights his conflicted hero's dual role as father and sheriff in this deeply satisfying installment."—Publisher's Weekly (starred review)
  "All the elements his fans love are present: lively characters, easy banter, and, of course, a touch of the supernatural. In early books, Walt was less sure of himself, but, in his eighth adventure, it makes sense that he's now the one "giving sheriff lessons." This book fits the hand like a well-worn glove."—Booklist