Here and Now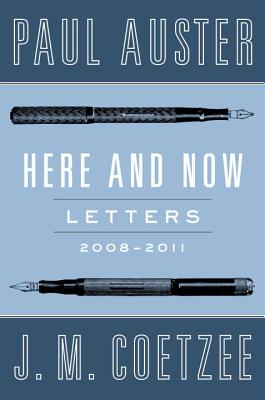 Here and Now
Letters 2008-2011
Viking Books, Hardcover, 9780670026661, 248pp.
Publication Date: March 7, 2013
* Individual store prices may vary.
Shop Local
Enter your zip code below to find indies closest to you.
Description
The high-spirited correspondence between "New York Times" bestselling author Paul Auster and Nobel laureate J. M. Coetzee
Although Paul Auster and J. M. Coetzee had been reading each other's books for years, the two writers did not meet until February 2008. Not long after, Auster received a letter from Coetzee, suggesting they begin exchanging letters on a regular basis and, "God willing, strike sparks off each other."
"Here and Now" is the result of that proposal: the epistolary dialogue between two great writers who became great friends. Over three years their letters touched on nearly every subject, from sports to fatherhood, film festivals to incest, philosophy to politics, from the financial crisis to art, death, family, marriage, friendship, and love.
Their correspondence offers an intimate and often amusing portrait of these two men as they explore the complexities of the here and now and is a reflection of two sharp intellects whose pleasure in each other's friendship is apparent on every page.
About the Author
Paul Auster is the bestselling author of "Winter Journal", "Sunset Park", "Invisible", "The Book of Illusions", and "The New York Trilogy", among many other works. He has been awarded the Prince of Asturias Prize for Literature, the Prix Medicis Etranger, the Independent Spirit Award, and the Premio Napoli. He is a member of the American Academy of Arts and Letters, the American Academy of Arts and Sciences, and a Commandeur de l'Ordre des Arts et des Lettres. He lives in Brooklyn, New York.

"Auster has an enormous talent for creating worlds that are both fantastic and believable. . . . His novels are uniformly difficult to put down, a testament to his storytelling gifts."--Timothy Peters, "San Francisco Chronicle"

Born in Cape Town, South Africa, on February 9, 1940, John Michael Coetzee studied first at Cape Town and later at the University of Texas at Austin, where he earned a Ph.D. degree in literature. In 1972 he returned to South Africa and joined the faculty of the University of Cape Town. His works of fiction include Dusklands, Waiting for the Barbarians, which won South Africa s highest literary honor, the Central News Agency Literary Award, and the Life and Times of Michael K., for which Coetzee was awarded his first Booker Prize in 1983. He has also published a memoir, Boyhood: Scenes From a Provincial Life, and several essays collections. He has won many other literary prizes including the Lannan Award for Fiction, the Jerusalem Prize and The Irish Times International Fiction Prize. In 1999 he again won Britain s prestigious Booker Prize for Disgrace, becoming the first author to win the award twice in its 31-year history. In 2003, Coetzee was awarded the Nobel Prize in Literature.
Praise For Here and Now…
"[A] civilized discourse between two cultivated and sophisticated men…A pleasure to be in their company."—Michael Dirda, The Washington Post.

"These two famous writers might seem at first an unlikely pairing…[but] as a series of collaborative inquiries and an extended meditation on the processes of friendship, the book has something substantive to offer."—The New York Times Book Review

"Here and Now is akin to eavesdropping on a dazzling, extended dinner conversation between two intelligent and substantive minds... A very appealing, human portrait of these two writers."—Bookpage 
"A genial, often riveting exchange. Amiable and revealing missives from two remarkable minds."—Kirkus Reviews

"What keeps us reading is not the brilliance of the minds – though that feature is generously on offer as well – but the warmth, unpretentiousness, and honesty that emerges from these pages…An invigorating and deeply engaging look at two literary greats, as we've never seen them before."—thestar.com

"A striking portrait of two great friends…the result of Auster and Coetzee's exchange is nothing short of witty, sharp and thought-provoking, and offers a fascinating look into the minds of two of the 20th century's greatest writers."—Malibu Magazine