Teach Like Your Hair's on Fire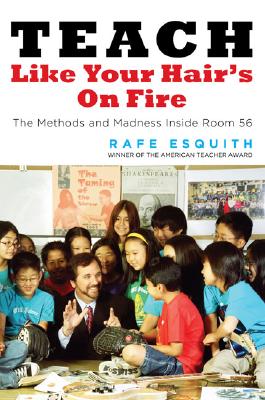 Teach Like Your Hair's on Fire
The Methods and Madness Inside Room 56
Viking Books, Hardcover, 9780670038152, 244pp.
Publication Date: January 18, 2007
* Individual store prices may vary.
Buy at Local Store
Enter your zip code below to purchase from an indie close to you.
or
Not Currently Available for Direct Purchase
Description
Read Rafe Esquith's posts on the Penguin Blog.
From one of America's most celebrated educators, an inspiring guide to transforming every child's education
In a Los Angeles neighborhood plagued by guns, gangs, and drugs, there is an exceptional classroom known as Room 56. The fifth graders inside are first-generation immigrants who live in poverty and speak English as a second language. They also play Vivaldi, perform Shakespeare, score in the top 1 percent on standardized tests, and go on to attend Ivy League universities. Rafe Esquith is the teacher responsible for these accomplishments.
From the man whom "The New York Times" calls a genius and a saint comes a revelatory program for educating today's youth. In "Teach Like Your Hair's on Fire ," Rafe Esquith reveals the techniques that have made him one of the most acclaimed educators of our time. The two mottoes in Esquith's classroom are Be Nice, Work Hard, and There Are No Shortcuts. His students voluntarily come to school at 6:30 in the morning and work until 5:00 in the afternoon. They learn to handle money responsibly, tackle algebra, and travel the country to study history. They pair "Hamlet" with rock and roll, and read the American classics. "Teach Like Your Hair's on Fire " is a brilliant and inspiring road map for parents, teachers, and anyone who cares about the future success of our nation's children.

About the Author
RAFE ESQUITH is beginning his 17th year at Hobart Elementary School in Los Angeles. He is the product of the LA public schools and a graduate of UCLA. His many honors and awards include the 1992 National Outstanding Teacher of the Year Award, the top teaching honor from the English Speaking Union, an SBD Fellowship from Johns Hopkins University, Parents Magazines top national teaching honor, and Oprah Winfrey's Use Your Life Award. He lives in Los Angeles with his wife, Barbara Tong.
Praise For Teach Like Your Hair's on Fire…
BACKCOVER: Praise for Rafe Esquith:

"Rafe Esquith is my only hero."—Sir Ian McKellan

"Politicians, burbling over how to educate the underclass, would do well to stop by Rafe Esquith's fifth grade class as it mounts its annual Shakespeare play. Sound like a grind? Listen to the peals of laughter bouncing off the classroom walls."—Time

"Esquith is a modern-day Thoreau, preaching the value of good work, honest self-reflection, and the courage to go one's own way."—Newsday