Seen Art?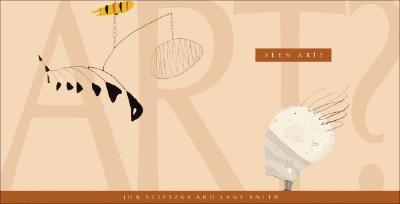 Seen Art?
Viking Books for Young Readers, Hardcover, 9780670059867, 48pp.
Publication Date: May 1, 2005
* Individual store prices may vary.
Buy Now
or
Shop Local
Enter your zip code below to purchase from an indie close to you.
Description
"It all started when I told my friend Art I would meet him on the corner of Fifth and Fifty-Third.
I didn't see him. So I asked a lady walking up the avenue, "Have you seen Art?"
"MoMA?" asked the lady.
"Uh . . . no, he's just a friend."
"Just down Fifty-Third Street here. In a beautiful new building. You can't miss it." "
When this address turns out to be the Museum of Modern Art in New York City, confusion and hilarity ensue. As the narrator continues looking for Art inside MoMA, he is introduced to well-known pieces of art such as Van Gogh's "The Starry Night, " Matisse's "The Red Studio, " as well as works by Picasso, Klee, Lichtenstein and others.
In a dynamic collaboration that features comical text and playful illustrations alongside full-color reproductions of the artwork, Jon Scieszka and Lane Smith give readers the perfect companion for a visit to MoMA, and an introduction to some of the world's best works of modern art.
About the Author
Jon Scieszka is the National Ambassador for Children's Literature emeritus and the bestselling author of more than twenty-five books for kids, including The Stinky Cheese Man and Other Fairly Stupid Tales, Math Curse, Robot Zot!, and the Time Warp Trio series. Jon founded Guys Read to encourage a passion for reading among young boys, with the philosophy that boys love to read most when they are reading things they love. A former elementary school teacher, Jon lives in Brooklyn with his family. For more great books, more great facts, and more about your favorite authors, head over to www.guysread.com. You'll be glad you did.
Lane Smith has written and illustrated a bunch of stuff, most recently "There Is A Tribe of Kids", which is set to launch in Summer 2016. He is the author of the middle-grade novel "Return to Augie Hobble, " as well as author and illustrator of "Grandpa Green" which was a 2012 Caldecott Honor book and "It's a Book" which was on the "New York Times" bestseller list for over six months and has been translated into over twenty languages. His other works include the national bestsellers "Madam President" and "John, Paul, George & Ben". His titles with Jon Scieszka have included the Caldecott Honor winner "The Stinky Cheese Man"; "The True Story of the 3 Little Pigs"; "Math Curse"; and "Science Verse". Lane's other high profile titles include "Hooray for Diffendoofer Day! "by Dr. Seuss and Jack Prelutsky; "The Very Persistent Gappers of Frip" by George Saunders; "Big Plans" by Bob Shea; and "James and the Giant Peach" by Roald Dahl. In 1996, Lane served as Conceptual Designer on the Disney film version of "James and the Giant Peach".
His books have appeared on the "New York Times" Best Illustrated Book of the Year list four times. Lane and book designer Molly Leach live in rural Connecticut.