How to Win Friends and Influence People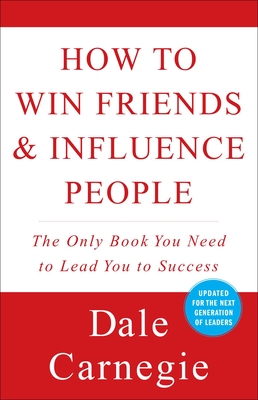 How to Win Friends and Influence People
Pocket Books, Paperback, 9780671027032, 288pp.
Publication Date: October 1, 1998
* Individual store prices may vary.
Buy at Local Store
Enter your zip code below to purchase from an indie close to you.
or
Buy Here
Description
You can go after the job you want...and get it You can take the job you have...and improve it You can take any situation you're in...and make it work for you
Since its release in 1936, "How to Win Friends and Influence People "has sold more than 15 million copies. Dale Carnegie's first book is a timeless bestseller, packed with rock-solid advice that has carried thousands of now famous people up the ladder of success in their business and personal lives.
As relevant as ever before, Dale Carnegie's principles endure, and will help you achieve your maximum potential in the complex and competitive modern age.
Learn the six ways to make people like you, the twelve ways to win people to your way of thinking, and the nine ways to change people without arousing resentment.
About the Author
Dale Carnegie was an American self-improvement lecturer and author. Born in 1888, Carnegie was the son of a farmer, and worked throughout his childhood helping his parents with various tasks on the farm. He was fortunate, however, in that he was able to obtain an education in his young adulthood at a nearby Teacher s College. Carnegie worked as a salesman and an actor before he took up teaching public speaking courses at a New York YMCA branch, where he was living at the time. Carnegie s public speaking career took off, and through his success he was able to have several of his books published. His first book, Public Speaking: a Practical Course for Business Men sold well, but his most impressive achievement was the publication of his book How to Win Friends and Influence People, which was an immediate bestseller when it was published in 1936, and has gone on to sell millions of copies in thirty-one languages. Carnegie also worked to open the Dale Carnegie Institute, a learning-ground for those interested in his public speaking and self-improvement techniques, and Dale Carnegie courses are still taught today. Carnegie died of Hodgkin s Disease on November 1, 1955.