Beyond World's End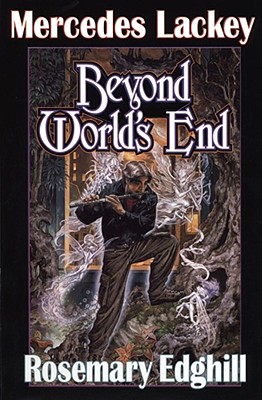 Beyond World's End
Baen Books, Hardcover, 9780671319557, 352pp.
Publication Date: January 2001
* Individual store prices may vary.
Shop Local
Enter your zip code below to find indies closest to you.
Description
"This is your soul on drugs..."
After the events chronicled in "Bedlam's Bard, " world-saving bard and magician Eric Banyon moves into his new New York apartment hoping to settle down to the quiet life. No such luck: his building is a safe-house for a group of occultist Guardians protecting the city from supernatural evil. And there's a new evil for them to quard against....
When unethical drug researchers discover that they can induce amazing mental powers using psychotropic drugs, they begin planning to raise a drug-enslaved army of mercenaries and grow very, very rich. But this gets the attention of Aerune mac Audelaine, lord of the dark Unseleighe Sidhe, who hopes to use the drugs to break through to the human world and feed on the suffering there. Both plans will bring terror to the world -- and both are threatened by the very existence of Eric Banyon.
With his possibly loyal companions -- a beautiful elven half-breed and a gargoyle -- Eric heads for a three-way battle of wizardry that will determine Gotham's fate -- and his own.
About the Author
Mercedes Lackey and James Mallory have written the Enduring Flame trilogy, which includes the New York Times bestseller The Phoenix Transformed, and the Obsidian Trilogy: The Outstretched Shadow, named Best Science Fiction, Fantasy, and Horror by VOYA; To Light a Candle, a USA Today bestseller; and When Darkness Falls, a New York Times bestseller. Lackey lives in Claremore, Oklahoma. Mallory lives in Baltimore, Maryland.
Rosemary Edghill is a prolific writer in several genres, under her own name and various pseudonyms. Her "Bast "books, witty mysteries featuring a Wiccan amateur detective, were collected in "Bell, Book, and Murder". She has also written Regency Romances and fantasy novels, including several collaborations with Mercedes Lackey ("Spirits White as Lightning "and "Mad Maudlin") and Andre Norton ("Shadow of Albion "and" Leopard in Exile").
Edghill lives in upstate New York with several cats and several Cavalier King Charles Spaniels, which she shows in obedience competitions.