March Upcountry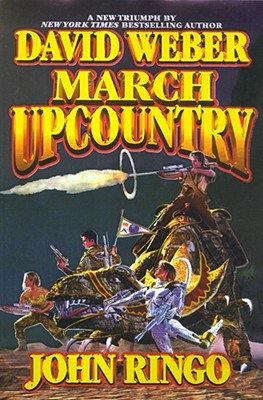 March Upcountry
Baen Books, Hardcover, 9780671319854, 510pp.
Publication Date: May 1, 2001
* Individual store prices may vary.
Buy at Local Store
Enter your zip code below to purchase from an indie close to you.
or
Not Currently Available for Direct Purchase
Description
The Royal Brat is in Trouble


Roger Ramius Sergei Chiang MacClintock didn't understand.


He was young, handsome, athletic, an excellent dresser, and third in line for the Throne of Man...so why wouldn't anyone at Court trust him?


Why wouldn't even his own mother, the Empress, explain why they didn't trust him? Or why the very mention of his father's name was forbidden at Court? Or why his mother had decided to pack him off to a backwater planet aboard what was little more than a tramp freighter to represent her at a local political event better suited to a third assistant undersecretarv of state?


It probably wasn't too surprising that someone in his position should react by becoming spoiled, selfcentered and petulant. After all, what else did he have to do with his life?


But that was before a saboteur tried to blow up his transport. Then warships of the Empire of Man's worst rivals shot the crippled vessel out of space. Then Roger found himself shipwrecked on the planet Marduk, whose jungles were full of damnbeasts, killerpillars, carnivorous plants, torrential rain, and barbarian hordes with really bad dispositions. Now all Roger has to do is hike halfway around the entire planet, then capture a spaceport from the Bad Guys, somehow commandeer a starship, and then go home to Mother for explanations.


Fortunately, Roger has an ace in the hole: Bravo Company of Bronze Battalion of The Empress' Own Regiment. If anyone can get him off Marduk alive, it's the Bronze Barbarians.


Assuming that Prince Roger manages to grow up before he gets all of them killed.
About the Author
David Weber is a science fiction phenomenon. His popular Honor Harrington space-opera adventures (most recently, "At All Costs") are "New York Times" bestsellers and can't come out fast enough for his devoted readers.

John Ringo is author of the New York Times best-selling Legacy of Aldenata (Posleen War) series, which so far includes A Hymn Before Battle and nine sequels, the technothriller series starting with Ghost, a dark fantasy titled Princess of Wands, and many other novels for Baen. A veteran of the 82nd Airborne, Ringo brings first-hand knowledge of military operations to his fiction.