A Civil Campaign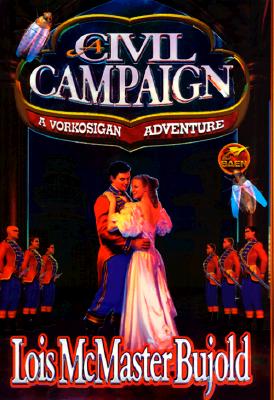 A Civil Campaign
Baen Books, Hardcover, 9780671578275, 416pp.
Publication Date: September 1, 1999
* Individual store prices may vary.
Buy at Local Store
Enter your zip code below to purchase from an indie close to you.
or
Buy Here
Description
ONE CUNNING PLAN TOO MANY...?
It's spring in Vorbarr Sultana, and a young person's fancy lightly turns to thoughts of love ... money ... bio-genetics ... love ... lack of money ... incompatible planetary sexual mores ... love ... District succession scandals ... the Emperor's wedding ... and, of course, love ...
Lord Miles Vorkosigan, youngest Imperial Auditor to be appointed by the Emperor since the Time of Isolation, has a problem all his new power can't solve: unrequited love for the beautiful Vor widow Ekaterin Vorsoisson. Ekaterin is violently allergic to marriage as a result of her first exposure. But as Miles learned from his late career in galactic covert ops, if a frontal assault won't do, go to subterfuge. He has a cunning plan ...
Lord Mark Vorkosigan has a problem: his love for the sunny Kareen, daughter of Commodore Koudelka, has just become unrequited again. But if all his new money can't solve their dilemma, perhaps a judicious blending of science and entrepreneurial scheming might. He has a cunning plan ...
Lord Ivan Vorpatril has a problem: unrequited love in general. True, with the men on Barrayar out-numbering the women five to four, his odds aren't good. But Ivan had never thought the odds applied to him. He too has a cunning plan ...
If no battle plan survives first contact with the enemy, just imagine what all Miles's closest friends and relatives can do to his romantic strategy!

About the Author
One of the most respected writers in the field of speculative fiction, Lois McMaster Bujold burst onto the scene in 1986 with Shards of Honor, the first of her tremendously popular Vorkosigan Saga novels. She has received numerous accolades and prizes, including two Nebula Awards for best novel (Falling Free and Paladin of Souls), four Hugo Awards for Best Novel (Paladin of Souls, The Vor Game, Barrayar, and Mirror Dance), as well as the Hugo and Nebula Awards for her novella The Mountains of Mourning. Her work has been translated into twenty-one languages. The mother of two, Bujold lives in Minneapolis, Minnesota.