Lt. Leary, Commanding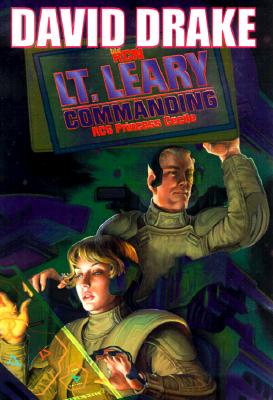 Lt. Leary, Commanding
Baen Books, Hardcover, 9780671578756, 448pp.
Publication Date: July 1, 2000
* Individual store prices may vary.
Buy at Local Store
Enter your zip code below to purchase from an indie close to you.
or
Not Currently Available for Direct Purchase
Description
Into Harm's Way!
Lieutenant Daniel Leary of the Republic of Cinnabar Navy commands the corvette Princess Cecile; his friend Signals Officer Adele Mundy has the latest in spy apparatus and the skill to prowl the most tightly guarded database. All they lack are enemies, and fate is about to supply that need in abundance!
-- A hostage uses the Princess Cecile to regain his freedom -- and his throne!
-- An ally intrigues with enemies of Cinnabar -- knowing the plot can only be safeguarded by destroying the Princess Cecile!
-- A pirate chief joins in a cutthroat battle with a rival -- and the Princess Cecile is a pawn!
Daniel, Adele, and their crack crew must battle bureaucrats and traitors, the winds of a barren desert and the strains of a voyage never before attempted. If they succeed at every stage, their reward will be the chance to fight another enemy: one which can blow them and a hundred ships like theirs to vapor!
DEATH IS ALWAYS AN OPTION BUT DEFEAT CAN NEVER BE
Action, color and heroics merge with the gritty realities of war and politics in a story that never slows down. Indeed, how could it slow down, with

About the Author
David Drake (born 1945) sold his first story (a fantasy) at age 20. His undergraduate majors at the University of Iowa were history (with honors) and Latin (BA, 1967). He uses his training in both subjects extensively in his fiction.
David entered Duke Law School in 1967 and graduated five years later (JD, 1972). The delay was caused by his being drafted into the US Army. He served in 1970 as an enlisted interrogator with the 11th Armored Cavalry Regiment, the Blackhorse, in Viet Nam and Cambodia. He has used his legal and particularly his military experiences extensively in his fiction also.
David practiced law for eight years; drove a city bus for one year; and has been a full-time freelance writer since 1981, writing such novels as" Out of the Waters" and "Monsters of the Earth". He reads and travels extensively.