Technical Manual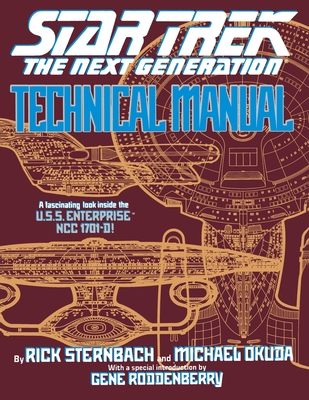 Technical Manual
Star Trek, Paperback, 9780671704278, 192pp.
Publication Date: February 2, 2006
* Individual store prices may vary.
Buy Now
or
Shop Local
Enter your zip code below to purchase from an indie close to you.
Description
The "Star Trek: The Next Generation® Technical Manual," written by Rick Sternbach and Michael Okuda, the technical advisors to "Star Trek: The Next Generation," provides a comprehensive schematization of a Galaxy-class starship. From the bridge to the shuttlebays, from the transporter room to crews' quarters, this book provides a never-before-seen glimpse at the inner, intricate workings of the most incredible starship ever conceived.
Full of diagrams, technical schematics, and ship's plans, the "Star Trek: The Next Generation Technical Manual" also takes a detailed look at the principles behind "Star Trek"®'s awesome technology -- from phasers to warp drive to the incredible holodeck.
About the Author
Michael Okuda is the scenic art supervisor for "Star Trek: Voyager." He is responsible for those show's control panels, signage, alien written languages, computer readout animation, and other strange things. Michael worked on all seven years of "Star Trek: The Next Generation", and "Star Trek: Deep Space Nine." His other credits include six "Star Trek" feature films, "The Flash, The Human Target, " and the never-seen American version of "Red Dwarf."
Along with Rick Sternbach, Michael serves as a technical consultant to the writing staff of "Star Trek" and is coauthor of the "Star Trek: The Next Generation Technical Manual" book and CD-ROM. Michael grew up in Hawai'i, where he graduated from Roosevelt High School and earned a BA in communications from the University of Hawai'i at Manoa. He is a member of IATSE Local 816 (Scenic, Title and Graphic Artists) and is a member of the American Civil Liberties Union. Mike is a proponent of science education and he "really" wants to be the first graphic artist in space.
Rich Sternbach is a Hugo and Emmy Award-winning visual artist with extensive film and television experience. Famous for his work on "Star Trek", he has been responsible for a number of starship designs. He co-wrote the "Star Trek: The Next Generation Technical Manual" and the "Deep Space Nine Technical Manual".