Uncle Jed's Barbershop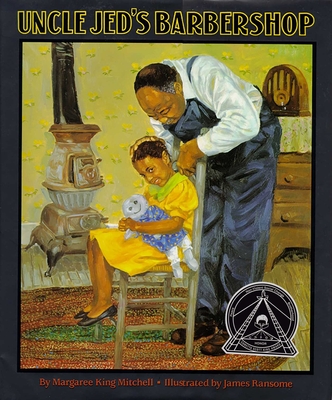 Uncle Jed's Barbershop
Simon & Schuster Books for Young Readers, Hardcover, 9780671769697, 40pp.
Publication Date: August 1, 1993
* Individual store prices may vary.
Buy Now
or
Shop Local
Enter your zip code below to purchase from an indie close to you.
Description
Sarah Jean's Uncle Jed was the only black barber in the county. He had a kind heart and a warm smile. And he had a dream.

Living in the segregated South of the 1920's, where most people were sharecroppers. Uncle Jed had to travel all over the county to cut his customers' hair. He lived for the day when he could open his very own barbershop. But it was a long time, and many setbacks, from five-year-old Sarah Jean's emergency operation to the bank failures of the Great Depression, before the joyful day when Uncle Jed opened his shiny new shop -- and twirled a now grown-up Sarah Jean around in the barber chair.

With James Ransome's richly colored paintings brimming with life, this is a stirring story of dreams long deferred and finally realized.
About the Author
Margaree King Mitchell is the author of the Coretta Scott King Honor Book UNCLE JED'S BARBERSHOP, illustrated by James E. Ransome, and GRANDDADDY'S GIFT, illustrated by Larry Johnson. An award winning musical of the same name has been adapted from UNCLE JED'S BARBERSHOP. She is the creator of the EveryBody Has A Dream program, which empowers students in urban and rural areas to shoot for the stars with aspirations for their lives. Margaree lives in Overland Park, KS, where she is a member of the Midwest Children's Authors Guild.THE PEOPLE IN THE PARK is her first novel for teens.

James Ransome's work has appeared in nearly fifty books for children, including Uncle Jed's Barbershop, a Coretta Scott King Honor Book, and This Is the Dream. His highly acclaimed illustrations for Let My People Go: Bible Stories Told by a Freeman of Color won the NAACP Image Award. He teaches illustration at Syracuse University and lives in Rhinebeck, New York, with his family.