We Band of Angels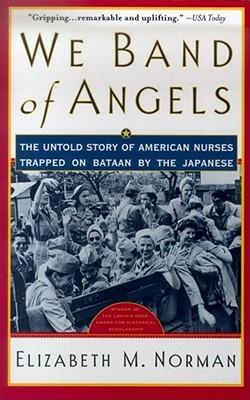 We Band of Angels
The Untold Story of American Nurses Trapped on Bataan by the Japanese
Atria Books, Paperback, 9780671787189, 352pp.
Publication Date: May 1, 2000
* Individual store prices may vary.
Buy at Local Store
Enter your zip code below to purchase from an indie close to you.
or
Not Currently Available for Direct Purchase
Description
Hailed by The New York Times Book Review as a "grippingly told" story of "power and relevance," here is the true, untold account of the first American women to prove their mettle under combat conditions. Later, during three years of brutal captivity at the hands of the Japanese, they also demonstrated their ability to survive. Filled with the thoughts and impressions of the women who lived it, "every page of this history is fascinating" (The Washington Post).
We Band of Angels
In the fall of 1941, the Philippines was a gardenia-scented paradise for the American Army and Navy nurses stationed there. War was a distant rumor, life a routine of easy shifts and evenings of dinner and dancing under the stars. On December 8 all that changed, as Japanese bombs rained on American bases in Luzon, and the women's paradise became a fiery hell. Caught in the raging battle, the nurses set up field hospitals in the jungles of Bataan and the tunnels of Corregidor, where they saw the most devastating injuries of war, and suffered the terrors of shells and shrapnel.
But the worst was yet to come. As Bataan and Corregidor fell, a few nurses escaped, but most were herded into internment camps enduring three years of fear and starvation. Once liberated, they returned to an America that at first celebrated them, but later refused to honor their leaders with the medals they clearly deserved. Here, in letters, diaries, and firsthand accounts, is the story of what really happened during those dark days, woven together in a compelling saga of women in war.
Praise For We Band of Angels…
The Dallas Morning News Poignant and powerful...riveting.



Stephen E. Ambrose This is a gripping book. Elizabeth Norman presents a war story in which the main characters never kill one of the enemy, or even shoot at him, but are nevertheless heroes....First on Bataan, then moved to Corregidor, they were under almost constant shell fire, were always hungry, close to starvation, had horrendous diseases to deal with despite a shortage or even a complete lack of proper medicines, getting little or no sleep, nothing in the way of recreation -- yet they were a true band of angels, inspiring all the men whom they were there to help. In a squalid prison camp, they remained giants, despite their small size....They were the bravest of the brave, who endured unspeakable pain and torture. Americans today should thank God we had such women.



Austin American-Statesman (TX) Compelling...engrossing...suspense-filled....Terrific reading.



The Philippine Inquirer The most comprehensive account ever told of the capture and captivity of the ninety-nine nurses known as the "Angels of Bataan"....The vivid details of their actions, taken from interviews, journals, letters, and government testimony...prove to be the real gems of the book.



Richmond Times-Dispatch One cannot help but be impressed by their courage in the worst of circumstances ....An incredible piece of research.



Library journal Harrowing...well-written.



San Antonio Express-News Packs an emotional wallop.



Kirkus Reviews Gripping....Norman's touching and stirring narrative makes a fitting tribute to these women's courage and dedication.



Publishers Weekly Makes excellent use of extensive quotations from diaries and interviews.... Norman also captures moments of great courage....But the true highlights come in the evocation of tears and sweat that went into the nurses' daily struggle...in the face of overwhelming adversity.



The Boston Globe Captures [war's] gritty, surreal texture with as much eloquence as the best writers on the Balkan front lines....Norman tells the story of Bataan with authority, compassion, and an unusually clear-sighted view of the American military. She hooks readers from the start.