Brave Companions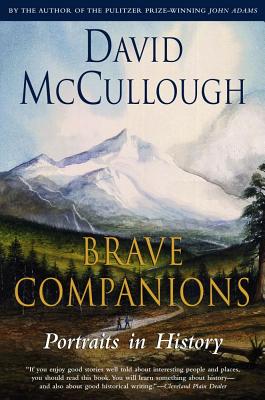 Brave Companions
Portraits in History
Simon & Schuster, Paperback, 9780671792763, 256pp.
Publication Date: November 1, 1992
* Individual store prices may vary.
Buy at Local Store
Enter your zip code below to purchase from an indie close to you.
or
Buy Here
Description
From Alexander von Humboldt to Charles and Anne Lindbergh, these are stories of people of great vision and daring whose achievements continue to inspire us today, brilliantly told by master historian David McCullough.
The bestselling author of "Truman" and "John Adams, " David McCullough has written profiles of exceptional men and women past and present who have not only shaped the course of history or changed how we see the world but whose stories express much that is timeless about the human condition.
Here are Alexander von Humboldt, whose epic explorations of South America surpassed the Lewis and Clark expedition; Harriet Beecher Stowe, the little woman who made the big war; Frederic Remington; the extraordinary Louis Agassiz of Harvard; Charles and Anne Lindbergh, and their fellow long-distance pilots Antoine de Saint-Exupery and Beryl Markham; Harry Caudill, the Kentucky lawyer who awakened the nation to the tragedy of Appalachia; and David Plowden, a present-day photographer of vanishing America.
Different as they are from each other, McCullough's subjects have in common a rare vitality and sense of purpose. These are brave companions: to each other, to David McCullough, and to the reader, for with rare storytelling ability McCullough brings us into the times they knew and their very uncommon lives.
About the Author
David McCullough has been widely acclaimed as a "master of the art of narrative history," "a matchless writer." He is twice winner of the National Book Award, twice winner of the Pulitzer Prize. In December 2006 he received the Presidential Medal of Freedom, the nation's highest civilian award.
His books have been praised for their scholarship, their understanding of American life, their "vibrant prose," and insight into individual character. Mr. McCullough's most recent book, "1776", the number one "New York Times" national bestseller in both hardcover and paperback, has been called, "brilliant...powerful," "a classic." There are three million copies in print, while Mr. McCullough's previous work, "John Adams", remains one of the most critically acclaimed and widely read American biographies of all time. It is presently in its sixty-third printing.
"John Adams", a seven-part mini-series on HBO begins March 16. Produced by Tom Hanks, it stars Paul Giamatti and Laura Linney.
In the words of the citation accompanying his honorary degree from Yale, "As an historian, he paints with words, giving us pictures of the American people that live, breathe, and above all, confront the fundamental issues of courage, achievement, and moral character."
Mr. McCullough's other books include "The Johnstown Flood, The Great Bridge, The Path between the Seas, Mornings on Horseback, Brave Companions, " and "Truman". His work has been published in ten languages and, in all, nearly 9,000,000 copies are in print. As may be said of few writers, none of his books has ever been out of print.
David McCullough is as well twice winner of the prestigious Francis Parkman Prize, and for his work overall he has been honored by the National Book Foundation Distinguished Contribution to American Letters Award and the National Humanities Medal. He has been elected to the American Academy of Arts and Sciences, as well as the American Academy of Arts and Letters and has received more than forty honorary degrees.
In a crowded, productive career, he has been an editor, essayist, teacher, lecturer, and familiar presence on public television -- as host of "Smithsonian World, The American Experience", and narrator of numerous documentaries including "The Civil War". His is also the narrator's voice in the movie "Seabiscuit".
A gifted speaker, Mr. McCullough has lectured in all parts of the country and abroad, as well as at the White House. He is also one of the few private citizens to speak before a joint session of Congress.
Born in Pittsburgh, Mr. McCullough was educated there and at Yale, where he was graduated with honors in English literature. He is an avid reader, traveler, and has enjoyed a lifelong interest in art and architecture. He is as well a devoted painter. Mr. McCullough and his wife Rosalee Barnes McCullough have five children and eighteen grandchildren.
His current project is a book about Americans in Paris, from the 1830's to 1930's.
Praise For Brave Companions…
Cleveland Plain Dealer


If you enjoy good stories well told about interesting people and places, you should read this book. You will learn something about history -- and also about good historical writing.


The New York Times Book Review


McCullough's portrayals...are models of compression, perspective, and the discriminating use of detail, and of what the author calls "the possibilities for self-expression in writing narrative history."


Dallas Morning News


It will come as no surprise to the reader to learn that Mr. McCullough's first ambition was to be a portrait painter. He has supplied us with admirable portraits....All his subjects come alive.