The Lottery Winner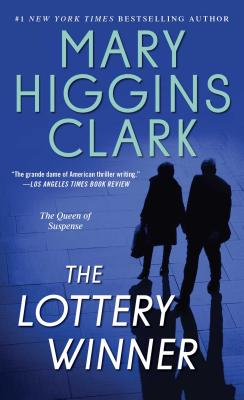 The Lottery Winner
Pocket Books, Mass Market Paperbound, 9780671867171, 304pp.
Publication Date: November 1995
* Individual store prices may vary.
Shop Local
Enter your zip code below to find indies closest to you.
Description
Alvirah Meehan, one of Mary Higgins Clark's most beloved characters, returns in these dazzling, intertwined tales of sleuthing and suspense. Alvirah, the former cleaning lady who struck it rich in the lottery, made her first appearance in Weep No More, My Lady. Now, with her devoted mate, Willy, the ever-resourceful Alvirah delves into crime-solving on a grand scale -- and with her own inimitable style.
Among their many adventures, Alvirah and Willy find a dead actress in their Central Park South condominium upon their return from London in "The Body in the Closet." Needing a break from the big city, they escape to Cape Cod -- only to meet a would-be heiress framed for murder in "Death on the Cape." When Alvirah and Willy seek the tranquillity of the Cypress Point Spa, it's the perfect getaway -- until a jewel thief turns up in "The Lottery Winner." Back in Manhattan, the search for a neighbor's missing newborn makes for a suspense-filled Christmas in "Bye, Baby Bunting."
About the Author
Mary Higgins Clark's books are worldwide bestsellers. In the US alone, her books have sold more than 100 million copies. Her latest suspense novel, "The Lost Years", was published by Simon & Schuster in April 2012. She is an active member of Literacy Volunteers. She is the author of thirty previous suspense novels, three short story collections, a historical novel, a memoir, and two children's books. She is coauthor with her daughter, Carol Higgins Clark, of five suspense novels. Two of her novels were made into feature films and many of her other works into TV films. Mary Higgins Clark is married to John Conheeney and they live in Saddle River, New Jersey.
Praise For The Lottery Winner…
ÐÏࡱá;þÿ þÿÿÿÿÿÿÿÿÿÿÿÿÿÿÿÿÿÿÿÿÿÿÿÿÿÿÿÿÿÿÿÿÿÿÿÿÿÿÿÿÿÿÿÿÿÿÿÿÿÿÿÿÿÿÿÿÿÿÿÿÿÿÿÿÿÿÿÿÿÿÿÿÿÿÿÿÿÿÿÿÿÿÿÿÿÿÿÿÿÿÿÿÿÿÿÿÿÿÿÿÿÿÿÿÿÿÿÿÿÿÿÿÿÿÿÿÿÿÿÿÿÿÿÿÿÿÿÿÿÿÿÿÿÿÿÿÿÿÿÿÿÿÿÿÿÿÿÿÿÿÿÿÿÿÿÿÿÿÿÿÿÿÿÿÿÿÿÿÿÿÿÿÿÿÿÿÿÿÿÿÿÿÿÿÿÿÿÿÿÿÿÿÿÿÿÿÿÿÿÿÿÿÿÿÿÿÿÿÿÿÿÿÿÿÿÿÿÿÿÿÿÿÿÿÿÿÿÿÿÿÿÿÿÿÿÿÿÿÿÿÿÿÿÿÿÿÿÿÿÿÿÿÿÿÿÿÿÿÿÿÿÿÿÿÿÿÿÿÿÿÿÿÿÿÿÿÿÿÿÿÿÿÿÿÿÿÿÿÿÿÿÿÿÿÿÿÿÿÿÿÿÿÿÿÿÿÿÿÿÿÿÿÿÿÿÿÿÿÿÿÿÿÿÿÿÿÿÿÿÿÿÿÿÿÿÿÿÿÿÿÿÿÿÿÿÿÿÿÿÿÿÿÿÿÿÿÿÿÿÿÿÿÿÿÿÿÿÿÿÿÿÿÿÿÿÿÿÿÿÿÿÿÿÿÿÿÿÿÿÿÿÿÿÿÿÿÿÿÿÿÿÿÿÿÿÿÿÿÿÿÿÿÿÿÿÿÿÿÿÿÿÿÿÿÿÿÿÿÿÿÿÿÿÿÿýÿÿÿþÿÿÿþÿÿÿ þÿÿÿÿÿÿÿÿÿÿÿÿÿÿÿÿÿÿÿÿÿÿÿÿÿÿÿÿÿÿÿÿÿÿÿÿÿÿÿÿÿÿÿÿÿÿÿÿÿÿÿÿÿÿÿÿÿÿÿÿÿÿÿÿÿÿÿÿÿÿÿÿÿÿÿÿÿÿÿÿÿÿÿÿÿÿÿÿÿÿÿÿÿÿÿÿÿÿÿÿÿÿÿÿÿÿÿÿÿÿÿÿÿÿÿÿÿÿÿÿÿÿÿÿÿÿÿÿÿÿÿÿÿÿÿÿÿÿÿÿÿÿÿÿÿÿÿÿÿÿÿÿÿÿÿÿÿÿÿÿÿÿÿÿÿÿÿÿÿÿÿÿÿÿÿÿÿÿÿÿÿÿÿÿÿÿÿÿÿÿÿÿÿÿÿÿÿÿÿÿÿÿÿÿÿÿÿÿÿÿÿÿÿÿÿÿÿÿÿÿÿÿÿÿÿÿÿÿÿÿÿÿÿÿÿÿÿÿÿÿÿÿÿÿÿÿÿÿÿÿÿÿÿÿÿÿÿÿÿÿÿÿÿÿÿÿÿÿÿÿÿÿÿÿÿÿÿÿÿÿÿÿÿÿÿÿÿÿÿÿÿÿÿÿÿÿÿÿÿÿÿÿÿÿÿÿÿÿÿÿÿÿÿÿÿÿÿÿÿÿÿÿÿÿÿÿÿÿÿÿÿÿÿÿÿÿÿÿÿÿÿÿÿÿÿÿÿÿÿÿÿÿÿÿÿÿÿÿÿÿÿÿÿÿÿÿÿÿÿÿÿÿÿÿÿÿÿÿÿÿÿÿÿÿÿÿÿÿÿÿÿÿÿÿÿÿÿÿÿÿÿÿÿÿÿÿÿÿÿÿÿÿÿÿÿÿÿÿÿÿÿÿÿÿÿÿÿÿÿÿÿÿÿÿÿÿÿÿÿÿÿÿÿÿÿÿÿÿÿÿÿÿÿÿÿÿÿÿÿÿÿÿÿÿÿÿÿÿÿÿÿÿÿÿÿRÿÿÿÿÿÿÿÿ ÀF€V@R;Á»CompObjÿÿÿÿÿÿÿÿÿÿÿÿ\WordDocumentÿÿÿÿÿÿÿÿ© ObjectPoolÿÿÿÿ€V@R;Á»€V@R;Á»þÿÿÿ þÿÿÿ !"#$%&'()*+,-./þÿÿÿÿÿÿÿÿÿÿÿÿÿÿÿÿÿÿÿÿÿÿÿÿÿÿÿÿÿÿÿÿÿÿÿÿÿÿÿÿÿÿÿÿÿÿÿÿÿÿÿÿÿÿÿÿÿÿÿÿÿÿÿÿÿÿÿÿÿÿÿÿÿÿÿÿÿÿÿÿÿÿÿÿÿÿÿÿÿÿÿÿÿÿÿÿÿÿÿÿÿÿÿÿÿÿÿÿÿÿÿÿÿÿÿÿÿÿÿÿÿÿÿÿÿÿÿÿÿÿÿÿÿÿÿÿÿÿÿÿÿÿÿÿÿÿÿÿÿÿÿÿÿÿÿÿÿÿÿÿÿÿÿÿÿÿÿÿÿÿÿÿÿÿÿÿÿÿÿÿÿÿÿÿÿÿÿÿÿÿÿÿÿÿÿÿÿÿÿÿÿÿÿÿÿÿÿÿÿÿÿÿÿÿÿÿÿÿÿÿÿÿÿÿÿÿÿÿÿÿÿÿÿÿÿÿÿÿÿÿÿÿÿÿÿÿÿÿÿÿÿÿÿÿÿÿÿÿÿÿÿÿÿÿÿÿÿÿÿÿÿÿÿÿÿÿÿÿÿÿÿÿÿÿÿÿÿÿÿÿÿÿÿÿÿÿÿÿÿÿÿÿÿÿÿÿÿÿÿÿÿÿÿÿÿÿÿÿÿÿÿÿÿþÿÿÿÿÿ ÀFMicrosoft Word 6.0 DocumentþÿÿÿNB6WWord.Document.6;ÿþ Ü¥hOÀ e›© ›llllll›llllll v lêE€€€€€€€€ÂÄÄÄÄÄÄ&/ X‡ "êl€€€€€ê€ll€€€€€€l€l€Âllllll€Â€B€Waka Tsunoda Associated Press "No one knows better than Mary Higgins Clark how to turn fear into great entertainment....She is a true national treasure." ÿÿÿÿÿÿÿÿþÿ òÿ…àOùh«'+'³Ù0‰˜ìü *6> FRo w ÿþ ÿÿÿÿÿÿÿÿLDesign Station 16:Applications:Microsoft Office:Microsoft Word 6.0.1:NormalKinkoÕsKinkoÕs'@€vÓòÌç@€vÓòÌç@