Truman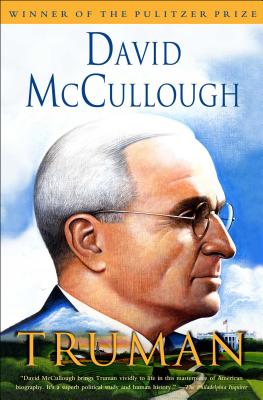 Truman
Simon & Schuster, Paperback, 9780671869205, 1120pp.
Publication Date: June 14, 1993
* Individual store prices may vary.
Buy at Local Store
Enter your zip code below to purchase from an indie close to you.
or
Buy Here
Description
The Pulitzer Prize-winning biography of Harry S. Truman, whose presidency included momentous events from the atomic bombing of Japan to the outbreak of the Cold War and the Korean War, told by America's beloved and distinguished historian.
The life of Harry S. Truman is one of the greatest of American stories, filled with vivid characters--Roosevelt, Churchill, Stalin, Eleanor Roosevelt, Bess Wallace Truman, George Marshall, Joe McCarthy, and Dean Acheson--and dramatic events. In this riveting biography, acclaimed historian David McCullough not only captures the man--a more complex, informed, and determined man than ever before imagined--but also the turbulent times in which he rose, boldly, to meet unprecedented challenges. The last president to serve as a living link between the nineteenth and the twentieth centuries, Truman's story spans the raw world of the Missouri frontier, World War I, the powerful Pendergast machine of Kansas City, the legendary Whistle-Stop Campaign of 1948, and the decisions to drop the atomic bomb, confront Stalin at Potsdam, send troops to Korea, and fire General MacArthur. Drawing on newly discovered archival material and extensive interviews with Truman's own family, friends, and Washington colleagues, McCullough tells the deeply moving story of the seemingly ordinary "man from Missouri" who was perhaps the most courageous president in our history.
About the Author
David McCullough has been widely acclaimed as a "master of the art of narrative history," "a matchless writer." He is twice winner of the National Book Award, twice winner of the Pulitzer Prize. In December 2006 he received the Presidential Medal of Freedom, the nation's highest civilian award.
His books have been praised for their scholarship, their understanding of American life, their "vibrant prose," and insight into individual character. Mr. McCullough's most recent book, "1776", the number one "New York Times" national bestseller in both hardcover and paperback, has been called, "brilliant...powerful," "a classic." There are three million copies in print, while Mr. McCullough's previous work, "John Adams", remains one of the most critically acclaimed and widely read American biographies of all time. It is presently in its sixty-third printing.
"John Adams", a seven-part mini-series on HBO begins March 16. Produced by Tom Hanks, it stars Paul Giamatti and Laura Linney.
In the words of the citation accompanying his honorary degree from Yale, "As an historian, he paints with words, giving us pictures of the American people that live, breathe, and above all, confront the fundamental issues of courage, achievement, and moral character."
Mr. McCullough's other books include "The Johnstown Flood, The Great Bridge, The Path between the Seas, Mornings on Horseback, Brave Companions, " and "Truman". His work has been published in ten languages and, in all, nearly 9,000,000 copies are in print. As may be said of few writers, none of his books has ever been out of print.
David McCullough is as well twice winner of the prestigious Francis Parkman Prize, and for his work overall he has been honored by the National Book Foundation Distinguished Contribution to American Letters Award and the National Humanities Medal. He has been elected to the American Academy of Arts and Sciences, as well as the American Academy of Arts and Letters and has received more than forty honorary degrees.
In a crowded, productive career, he has been an editor, essayist, teacher, lecturer, and familiar presence on public television -- as host of "Smithsonian World, The American Experience", and narrator of numerous documentaries including "The Civil War". His is also the narrator's voice in the movie "Seabiscuit".
A gifted speaker, Mr. McCullough has lectured in all parts of the country and abroad, as well as at the White House. He is also one of the few private citizens to speak before a joint session of Congress.
Born in Pittsburgh, Mr. McCullough was educated there and at Yale, where he was graduated with honors in English literature. He is an avid reader, traveler, and has enjoyed a lifelong interest in art and architecture. He is as well a devoted painter. Mr. McCullough and his wife Rosalee Barnes McCullough have five children and eighteen grandchildren.
His current project is a book about Americans in Paris, from the 1830's to 1930's.
Praise For Truman…
"Meticulously detailed, elegantly written, tightly constructed, rich in revealing anecdotes and penetrating insights. It is, as its subject demands, biography on the grand scale."

-- Jonathan Yardley, The Washington Post

"A warm, affectionate and thoroughly captivating biography....the most thorough account of Truman's life yet to appear. "

-- Alan Brinkley, The New York Times Book Review

"McCullough's marvelous feel for history is based on an appreciation of colorful tales and an insight into personalities. In this compelling saga of America's greatest common-man president, McCullough adds luster to an old-fashioned historical approach...the sweeping narrative, filled with telling details and an appreciation of the role individuals play in, shaping the world."

-- Walter Isaacson, Time

"Remarkable....you may open it at any point and instantly become fascinated, so easy, lucid, and energetic is the narrative and so absorbing the sequence of events."

-- The Economist

"McCullough is a master storyteller whose considerable narrative skills have been put to exquisite use in re-creating the life and times of America's 33rd president."

-- Robert Dallek, Los Angeles Times Book Review