The Black Art of Video Game Console Design [With CDROM]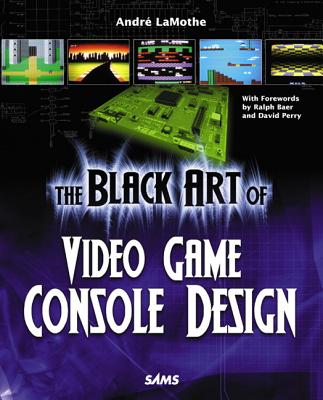 The Black Art of Video Game Console Design [With CDROM]
Sams, Paperback, 9780672328206, 955pp.
Publication Date: December 22, 2005
* Individual store prices may vary.
Buy at Local Store
Enter your zip code below to purchase from an indie close to you.
or
Buy Here
Description
&a>breaks new ground in game development by bridging the alien worlds of hardware and software together for the first time "The Black Art of Video Game Console Design" is written for the programmer and/or hobbyist interested in software game development, but also wants to understand the hardware games are implemented on. This book assumes no prior knowledge of Electrical Engineering or Computer Architecture, but takes you on a breathtaking journey from atomic semiconductor theory to the design and construction of basic video game consoles that you can build and write your own games for Included in the book is the entire design of numerous embedded game systems including the XGameStation systems and much more. "The Black Art of Video Game Console Design "with 800+ pages covers everything you need to know to design your own game console including: Basic atomic physics and semiconductor theory primer.
Introduction to circuit analysis; current, voltage, and resistance.
Analog design using discrete components.
Digital electronics and Boolean algebra.
Physical hardware construction and prototyping techniques.
Combinational logic and advanced integrated circuit building blocks.
Finite state machine design.
Computer architecture and design.
Understanding and using microprocessors and microcontrollers.
Developing software for embedded systems.
Designing video (NTSC/VGA), audio, and input device systems.
Interfacing and communications.
The complete design and discussion of numerous game systems including the XGameStations Register your book at informit.com/register and download the following additional resources (previously on bundled CD):
PCB and circuit simulation tools.
All necessary data sheets.
Demos and source code.
Complete designs to numerous embedded systems including the XGameStations.
About the Author
Andrh LaMothe (a.k.a. Lord Necron) has been programming for over 24 years and holds degrees in mathematics, computer science, and electrical engineering. He has written numerous articles on the subjects of graphics, game programming, and artificial intelligence. He is the author of Tricks of the Game Programming Gurus, Sams Teach Yourself Game Programming in 21 Days, The Game Programming Starter Kit, The Black Art of 3D Game Programming, and Windows Game Programming for Dummies, all bestsellers. In addition, he coauthored Ciarcia's Circuit Cellar I and II. Mr. LaMothe has also taught at the University of Santa Cruz Extension Multimedia Department.
Last, but not least, Andrh is the founder and CEO of Xtreme Games LLC (www.xgames3d.com) and the Xtreme Games Developers Conference (www.xgdc.com). He can be reached at ceo@xgames3d.com.
David Perry's photographs have been published, collected, and exhibited worldwide; current and past examples can be seen at www.davidperrystudio.co m. Perry's other books include Hot Rod, Bordertown, and Hot Rod Pin-ups, Billy F Gibbons: Rock + Roll Gearhead, and Hot Rod Kings, also fro m Motorbooks. Perry lives in Vallejo, California.