Built for Speed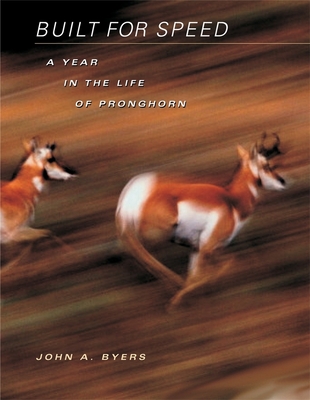 Built for Speed
A Year in the Life of Pronghorn
Harvard University Press, Hardcover, 9780674011427, 230pp.
Publication Date: September 15, 2003
* Individual store prices may vary.
Not Currently Available for Direct Purchase
or
Shop Local
Enter your zip code below to purchase from an indie close to you.
Description
North America's fastest mammal, the pronghorn can accelerate explosively from a standing start to a top speed of 60 miles per hour--but it can also cruise at 45 miles per hour for many miles. What accounts for the speed of this extraordinary animal, a denizen of the American outback, and what can be observed of this creature's way of life? And what is it like to be a field biologist dedicating twenty years to studying this species? In "Built for Speed," John A. Byers answers these questions as he draws an intimate portrait of the most charismatic resident of the American Great Plains.
The National Bison Range in western Montana, established in 1908 to snatch bison from the brink of extinction, also inadvertently rescued the largest known remnant of Palouse Prairie. It is within this grassland habitat--home to meadowlarks, rattlesnakes, bighorn sheep, coyotes, elk, snipe, and a panoply of wildflowers--that Byers observes the pronghorn's life from birth to death (a life often as brief as four days, sometimes as long as fifteen years) and from season to season. Readers will also experience the vicarious pleasures of a biologist who is eager to race a pronghorn in his truck, scrutinize bison dung through binoculars, and peer through the gathering dusk of a rainy evening to count the display dives of snipe.
A vivid and memorable tale of a first-rate scientist's twenty-year encounter with a magnificent animal, the story of the pronghorn is also a reminder of the crucial role we can play in preserving the fleeting life of the native American grassland.
About the Author
John A. Byers is Professor of Zoology, University of Idaho.



RICK BASS s fiction hasreceived O. Henry Awards, numerous Pushcart Prizes, awards from the Texas Institute of Letters, fellowships from the National Endowment for the Arts and the Guggenheim Foundation, among others. Most recently, his memoir"Why ICame West"was a finalist for a National Book Critics Circle Award.