The New Harvard Guide to Women's Health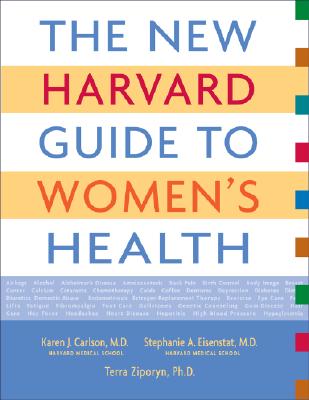 The New Harvard Guide to Women's Health
Belknap Press, Paperback, 9780674013438, 712pp.
Publication Date: April 6, 2004
* Individual store prices may vary.
Buy at Local Store
Enter your zip code below to purchase from an indie close to you.
or
Not Currently Available for Direct Purchase
Description
With the publication in 1996 of "The Harvard Guide to Women's Health," women seeking answers to questions about their health had access to the combined expertise of physicians from three of the world's most prestigious medical institutions: Harvard Medical School, Massachusetts General Hospital, and Brigham and Women's Hospital. With complete information on women's health concerns, physical and behavioral, this A to Z reference quickly became a definitive resource, praised especially for its coverage of topics not previously considered under the umbrella of women's health. "The New Harvard Guide to Women's Health" reunites the authors to bring a valued health reference up to date for a new generation--and for those women who have come to rely on the "Harvard Guide" and are now wondering what to do about their health as they enter a new stage of life, asking questions like the following: I've been on hormone replacement therapy. Should I stop? How?
Could this rash be lupus?
I've been on the Pill. What is my risk for stroke?
Fat is bad, fat is good: What should I believe? And what's left to eat?
When does ordinary worry become chronic anxiety?
What screening tests do I need now?
In addition to revised recommendations reflecting the current medical thinking on menopause and hormone replacement therapy, the "New Harvard Guide" includes updated recommendations about cardiac health and heart disease--the #1 killer of women in the United States
entries reflecting recent advances in the understanding and treatment of autoimmune diseases
better coverage of health concerns throughout a woman's life span, from her first period to menopause and beyond, with a new entry on perimenopause
expanded nutritional recommendations, including a unique chart of the U.S. government's Daily Reference Intakes for micronutrients, broken down for teens and women whose needs may differ because they are pregnant, breastfeeding, or postmenopausal
updated information on over-the-counter medications, prescription drugs, procedures, screenings, and diagnostic tests
About the Author
Dr. Karen J. Carlson is a pioneer in the field of primary care for women. More than fifteen years ago she founded Women's Health Associates at Massachusetts General Hospital and is currently Director of this innovative center, which has been widely emulated in other medical centers throughout the country. Dr. Carlson is an Assistant Professor of Medicine and Deputy Director of the Center of Excellence in Women's Health at Harvard Medical School. Her research and academic publications focus on hysterectomy, ovarian cancer screening, and communication between doctors and patients. She lectures frequently to thousands of physicians in continuing education courses at Harvard and other major medical schools.

Dr. Stephanie A. Eisenstat is an internist with Women's Health Associates at Massachusetts General Hospital and Assistant Professor of Medicine and Scholar at The Academy, Harvard Medical School. She directs a course for physicians in training, Trauma and Injury Control, and is co-editor with Dr. Carlson of "Primary Care of Women", one of the first medical textbooks devoted to the emerging specialty of women's primary care.

Terra Ziporyn won first prize for her historical novel Time's Fool in the Maryland Writers Association Novel Contest in 2008, as well as short story awards from Writer's Digest Magazine and the Chicago Literary Review and an Artist Development Grant from the Vermont Council on the Arts. A widely published medical writer, she is a former associate editor of the Journal of the American Medical Association (JAMA) whose books include The New Harvard Guide to Women's Health (Harvard University Press, 2004) and Alternative Medicine for Dummies (IDG Books, 1998). She has a BA in both history and biology from Yale and a PhD in the history of science and medicine from the University of Chicago.