The Consolation of Philosophy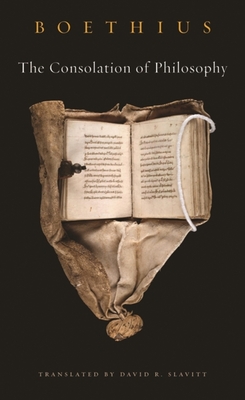 The Consolation of Philosophy
Harvard University Press, Paperback, 9780674048355, 175pp.
Publication Date: September 1, 2010
* Individual store prices may vary.
Buy at Local Store
Enter your zip code below to purchase from an indie close to you.
or
Buy Here
Description
In this highly praised new translation of Boethius's "The Consolation of Philosophy," David R. Slavitt presents a graceful, accessible, and modern version for both longtime admirers of one of the great masterpieces of philosophical literature and those encountering it for the first time. Slavitt preserves the distinction between the alternating verse and prose sections in the Latin original, allowing us to appreciate the Menippian parallels between the discourses of literary and logical inquiry. His prose translations are lively and colloquial, conveying the argumentative, occasionally bantering tone of the original, while his verse translations restore the beauty and power of Boethius's poetry. The result is a major contribution to the art of translation.
Those less familiar with "Consolation" may remember it was written under a death sentence. Boethius (c. 480 524), an Imperial official under Theodoric, Ostrogoth ruler of Rome, found himself, in a time of political paranoia, denounced, arrested, and then executed two years later without a trial. Composed while its author was imprisoned, cut off from family and friends, it remains one of Western literature's most eloquent meditations on the transitory nature of earthly belongings, and the superiority of things of the mind. In an artful combination of verse and prose, Slavitt captures the energy and passion of the original. And in an introduction intended for the general reader, Seth Lerer places Boethius's life and achievement in context.
About the Author
Anicius Manlius Severinus Boethius, der ca. 475 geboren und ca. 525 am Hofe des Ostgotemkonigs Theoderich hingerichtet wurde, war ein christlicher Politiker, Philosoph und Theologe.

Originally from White Plains, New York, David R. Slavitt is a poet, novelist, critic, and translator who has authored over 100 literary works. Receiving his education from Andover, Yale, and Columbia, he is coeditor of the Johns Hopkins Complete Roman Drama in Translations series and the Penn Greek Drama Series. His honors include a Pennsylvania Council on Arts award, a National Endowment for the Arts fellowship in translation, an award in literature from the American Academy and Institute of Arts and Letters, and a Rockefeller Foundation Artist's Residence. He lives in Cambridge, Massachusetts, and has taught at Columbia, Princeton, Bennington, and the University of Pennsylvania.