Awakening Islam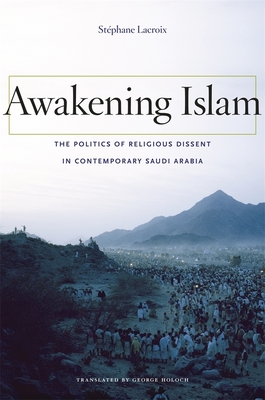 Awakening Islam
The Politics of Religious Dissent in Contemporary Saudi Arabia
Harvard University Press, Hardcover, 9780674049642, 373pp.
Publication Date: April 2011
* Individual store prices may vary.
Buy Now
or
Shop Local
Enter your zip code below to purchase from an indie close to you.
Description
Amidst the roil of war and instability across the Middle East, the West is still searching for ways to understand the Islamic world. Stephane Lacroix has now given us a penetrating look at the political dynamics of Saudi Arabia, one of the most opaque of Muslim countries and the place that gave birth to Osama bin Laden.
The result is a history that has never been told before. Lacroix shows how thousands of Islamist militants from Egypt, Syria, and other Middle Eastern countries, starting in the 1950s, escaped persecution and found refuge in Saudi Arabia, where they were integrated into the core of key state institutions and society. The transformative result was the Sahwa, or Islamic Awakening, an indigenous social movement that blended political activism with local religious ideas. "Awakening Islam" offers a pioneering analysis of how the movement became an essential element of Saudi society, and why, in the late 1980s, it turned against the very state that had nurtured it. Though the Sahwa Insurrection failed, it has bequeathed the world two very different, and very determined, heirs: the Islamo-liberals, who seek an Islamic constitutional monarchy through peaceful activism, and the neo-jihadis, supporters of bin Laden's violent campaign.
"Awakening Islam" is built upon seldom-seen documents in Arabic, numerous travels through the country, and interviews with an unprecedented number of Saudi Islamists across the ranks of today s movement. The result affords unique insight into a closed culture and its potent brand of Islam, which has been exported across the world and which remains dangerously misunderstood.
About the Author
Stephane Lacroix is an Associate Professor of Political Science at Sciences Po, Paris and a research fellow at the Centre d'Etudes et de Recherches Internationales. Since 2010, he has also been an associate researcher at the Centre d'Etudes et de Documentation Economiques, Juridiques et Sociales, in Cairo. He is the author of Awakening Islam: The Politics of Religious Dissent in Contemporary Saudi Arabia (2011), named book of the year in 2011 on Foreign Policy's Middle East Channel. He also co-authored Al-Qaida in its Own Words (2008) and The Meccan Rebellion (2011). His articles have appeared in journals such as the Middle East Journal and the International Journal of Middle East Studies.

Gonzague Saint Bris, who grew up in the last home of Leonardo Di Vinci, is a novelist, historian, and journalist. his has written acclaimed biographies of Victor Hugo, Alexandre Dumas, Balzac, and Flaubert. Gonzangue recently received an honorary degree from the University of california at Berkeley. He lives in Paris.