FDR and the Jews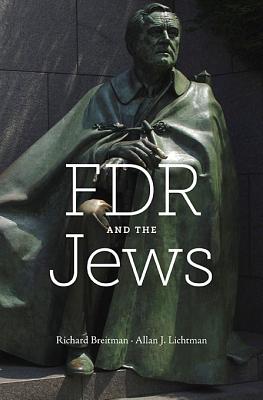 FDR and the Jews
Belknap Press, Hardcover, 9780674050266, 433pp.
Publication Date: March 19, 2013
* Individual store prices may vary.
Buy at Local Store
Enter your zip code below to purchase from an indie close to you.
or
Buy Here
Description
Nearly seventy-five years after World War II, a contentious debate lingers over whether Franklin Delano Roosevelt turned his back on the Jews of Hitler's Europe. Defenders claim that FDR saved millions of potential victims by defeating Nazi Germany. Others revile him as morally indifferent and indict him for keeping America's gates closed to Jewish refugees and failing to bomb Auschwitz's gas chambers.
In an extensive examination of this impassioned debate, Richard Breitman and Allan J. Lichtman find that the president was neither savior nor bystander. In "FDR and the Jews," they draw upon many new primary sources to offer an intriguing portrait of a consummate politician-compassionate but also pragmatic-struggling with opposing priorities under perilous conditions. For most of his presidency Roosevelt indeed did little to aid the imperiled Jews of Europe. He put domestic policy priorities ahead of helping Jews and deferred to others' fears of an anti-Semitic backlash. Yet he also acted decisively at times to rescue Jews, often withstanding contrary pressures from his advisers and the American public. Even Jewish citizens who petitioned the president could not agree on how best to aid their co-religionists abroad.
Though his actions may seem inadequate in retrospect, the authors bring to light a concerned leader whose efforts on behalf of Jews were far greater than those of any other world figure. His moral position was tempered by the political realities of depression and war, a conflict all too familiar to American politicians in the twenty-first century.
About the Author
Richard Breitman, Professor of History at American University, is the author or co-author of seven books and more than forty articles. One of his books, The Architect of Genocide: Himmler and the Final Solution, won the Fraenkel Prize for Contemporary History, and another, Official Secrets: What the Nazis Planned, What the British and Americans Knew, was a finalist for the National Jewish Book Award in Holocaust Studies. Breitman serves as editor of the scholarly journal Holocaust and Genocide Studies.

Allan J. Lichtman received his PhD from Harvard University in 1973 with a specialty in modern American history and quantitative methods. He became an Assistant Professor of History at American University in 1973 and a Full Professor in 1980. He was the recipient of the Scholar/Teacher of the year award for 1992-93. He has published seven books and several hundred popular and scholarly articles. He has lectured in the US and internationally and provided commentary for major US and foreign networks and leading newspapers and magazines across the world. He has been an expert witness in more than 75 civil and voting rights cases. His book, White Protestant Nation: The Rise of the American Conservative Movement was a finalist for the National Book Critics Circle Award in nonfiction. His prediction system, the Keys to the White House, has correctly predicted the outcomes of all US presidential elections since 1984.
Monday, Mar 18, 2013
President Franklin D. Roosevelt said little and did less on behalf of Jews trying to get out of Nazi Germany; but he also won Jewish votes by landslide margins and led the Allies to victory in World War II. A new history by Richard Breitman and Allan Lichtman revises FDR's performance upward. More at NPR.org