The Great Indian Phone Book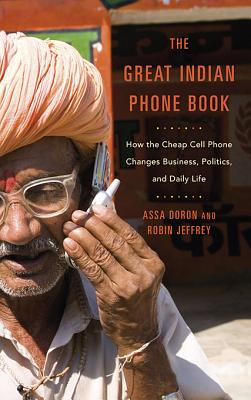 The Great Indian Phone Book
How the Cheap Cell Phone Changes Business, Politics, and Daily Life
Harvard University Press, Hardcover, 9780674072688, 336pp.
Publication Date: April 2, 2013
* Individual store prices may vary.
Buy at Local Store
Enter your zip code below to purchase from an indie close to you.
or
Not Currently Available for Direct Purchase
Description
In 2001, India had 4 million cell phone subscribers. Ten years later, that number had exploded to more than 750 million. Over just a decade, the mobile phone was transformed from a rare and unwieldy instrument to a palm-sized, affordable staple, taken for granted by poor fishermen in Kerala and affluent entrepreneurs in Mumbai alike. "The Great Indian Phone Book" investigates the social revolution ignited by what may be the most significant communications device in history, one which has disrupted more people and relationships than the printing press, wristwatch, automobile, or railways, though it has qualities of all four.
In this fast-paced study, Assa Doron and Robin Jeffrey explore the whole ecosystem of the cheap mobile phone. Blending journalistic immediacy with years of field-research experience in India, they portray the capitalists and bureaucrats who control the cellular infrastructure and wrestle over bandwidth rights, the marketers and technicians who bring mobile phones to the masses, and the often poor, village-bound users who adapt these addictive and sometimes troublesome devices to their daily lives. Examining the challenges cell phones pose to a hierarchy-bound country, the authors argue that in India, where caste and gender restrictions have defined power for generations, the disruptive potential of mobile phones is even greater than elsewhere.
"The Great Indian Phone Book" is a rigorously researched, multidimensional tale of what can happen when a powerful and readily available technology is placed in the hands of a large, still predominantly poor population.
About the Author
Assa Doron is an Australian Research Council Future Fellow in the Department of Anthropology at the School of Culture, History & Language, Australian National University.

Robin Jeffrey taught in a school in India from 1967 to 2009 and completed D.Phil. in Indian history at Sussex University in 1973. He taught for 25 years in the Politics programme at La Trobe University in Melbourne, worked twice at the Australian National University (ANU) in Canberra and has lived for 6 years in India between 1967 and 2015. He is a Visiting Research Professor at the Institute of South Asian Studies, National University of Singapore. His most recent book, co-authored with Assa Doron of ANU, is The Great Indian Phone Book (2013), published in India as Cell Phone Nation . His current research is on garbage in India. He is the author of The Decline of Nair Dominance (1976), What s Happening to India? (1986), Politics Women and Well-being (1992) and India s Newspaper Revolution (2000).