In Struggle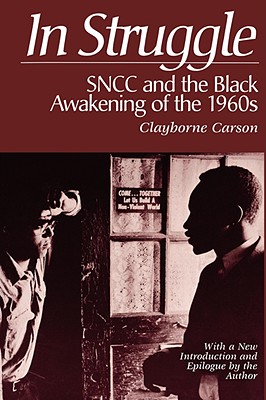 In Struggle
Sncc and the Black Awakening of the 1960s
Harvard University Press, Paperback, 9780674447271, 384pp.
Publication Date: April 3, 1995
* Individual store prices may vary.
Buy at Local Store
Enter your zip code below to purchase from an indie close to you.
or
Not Currently Available for Direct Purchase
Description
With its radical ideology and effective tactics, the Student Nonviolent Coordinating Committee (SNCC) was the cutting edge of the civil rights movement during the 1960s. This sympathetic yet even-handed book records for the first time the complete story of SNCC's evolution, of its successes and its difficulties in the ongoing struggle to end white repression.
At its birth, SNCC was composed of black college students who shared an ideology of moral radicalism. This ideology, with its emphasis on nonviolence, challenged Southern segregation. SNCC students were the earliest civil rights fighters of the Second Reconstruction. They conducted sit-ins at lunch counters, spearheaded the freedom rides, and organized voter registration, which shook white complacency and awakened black political consciousness. In the process, Carson shows, SNCC changed from a group that endorsed white middle-class values to one that questioned the basic assumptions of liberal ideology and raised the fist for black power. Indeed, SNCC's radical and penetrating analysis of the American power structure reached beyond the black community to help spark wider social protests of the 1960s, such as the anti-Vietnam War movement.
Carson's history of SNCC goes behind the scene to determine why the group's ideological evolution was accompanied by bitter power struggles within the organization. Using interviews, transcripts of meetings, unpublished position papers, and recently released FBI documents, he reveals how a radical group is subject to enormous, often divisive pressures as it fights the difficult battle for social change.
About the Author
Martin Luther King, Jr. (January 15, 1929 - April 4, 1968) was a famous leader of the American civil rights movement, a political activist, and a Baptist minister. In 1964, King became the youngest man to be awarded the Nobel Peace Prize for his work as a peacemaker, promoting nonviolence and equal treatment for different races. On April 4, 1968, Dr. King was assassinated in Memphis, Tennessee. In 1977, he was posthumously awarded the Presidential Medal of Freedom by Jimmy Carter. In 1986, Martin Luther King Day was established as a United States holiday. Dr. King often called for personal responsibility in fostering world peace.King's most influential and well-known public address is the "I Have A Dream" speech, delivered on the steps of the Lincoln Memorial in Washington, D.C.

Clayborne Carson, Palo Alto, California, is professor of history and founding director of the Martin Luther King, Jr., Research and Education Institute at Stanford University. He is also the author of "In Struggle: SNCC and the Black Awakening of the 1960s".