Against Logicians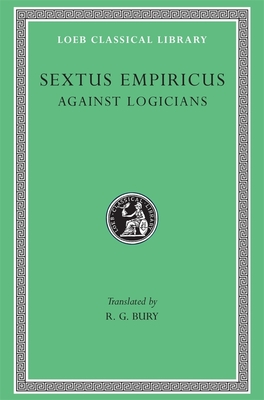 Against Logicians
Harvard University Press, Hardcover, 9780674993211, 489pp.
Publication Date: January 1, 1935
* Individual store prices may vary.
Buy at Local Store
Enter your zip code below to purchase from an indie close to you.
or
Not Currently Available for Direct Purchase
Description
Sextus Empiricus (ca. 160210 CE), exponent of scepticism and critic of the Dogmatists, was a Greek physician and philosopher, pupil and successor of the medical sceptic Herodotus (not the historian) of Tarsus. He probably lived for years in Rome and possibly also in Alexandria and Athens. His three surviving works are "'Outlines of Pyrrhonism'" (three books on the practical and ethical scepticism of Pyrrho of Elis, ca. 360275 BCE, as developed later, presenting also a case against the Dogmatists); "'Against the Dogmatists'" (five books dealing with the Logicians, the Physicists, and the Ethicists); and "'Against the Professors'" (six books: Grammarians, Rhetors, Geometers, Arithmeticians, Astrologers, and Musicians). These two latter works might be called a general criticism of professors of all arts and sciences. Sextus's work is a valuable source for the history of thought especially because of his development and formulation of former sceptic doctrines.
The Loeb Classical Library edition of Sextus Empiricus is in four volumes.
About the Author
Pyrrho of Elis (365-275 BC) is usually credited with initiating skepticism. Today Pyrrho's ideas are known mainly through the book "Outlines of Pyrrhonism" written by the Greek physician Sextus Empiricus.
Mary Mills Patrick (1850-1940) was a college president and author. She was a member of the psychological congresses at Munich in 1896 and at Paris in 1900; and of the philosophical congresses at Paris, 1900, and at Bologne in 1911.
Norman Maccoll (1843-1904) was for many years the editor of the "Athenaeum".
Edwyn Robert Bevan (1870-1943) was a versatile English philosopher and historian of the Hellenistic world. He had an academic position at King's College London. Bevan was awarded an honorary doctorate from St. Andrews in 1922 and an honorary D.Litt. from Oxford in 1923. In 1942 he became a Fellow of the British Academy.
Diogenes Laertius (fl. c. 3rd century CE) was a biographer of the Greek philosophers. Nothing is known about his life, but his surviving "Lives and Opinions of Eminent Philosophers" is a principal source for the history of Greek philosophy.
Sextus Empiricus (c. AD 200), the main authority for Greek skepticism, developed the philosophy further, incorporating aspects of empiricism into the basis for asserting knowledge.