Doctor Bloom's Story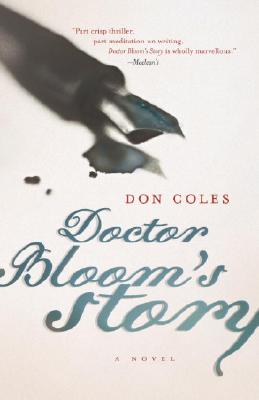 Doctor Bloom's Story
Vintage Books Canada, Paperback, 9780676976038, 293pp.
Publication Date: December 28, 2004
* Individual store prices may vary.
Buy at Local Store
Enter your zip code below to purchase from an indie close to you.
or
Not Currently Available for Direct Purchase
Description
Doctor Bloom's Story, a wry and subtle novel, is a Knopf Canada New Face of Fiction selection for 2004 and already a popular and critical favourite. What starts off sounding like a charming, bittersweet memoir develops rapidly into a complex and moving book centred on a pressing moral dilemma.

In the first few pages, Dr. Nicolaas Bloom, cardiologist and would-be writer, describes his life's trajectory: from medical and literary studies in Leiden, Holland, through practice and research in Cambridge to, following the death of his wife, a new life in uptown Toronto. Dr. Bloom's story proper begins in a writing workshop, taught by his tough-talking neighbour Larry Logan: Bloom finds himself entranced by one of his young classmates, a quiet, self-possessed young woman named Sophie Führ.

The novel quickly establishes the rhythm it will pursue throughout, its present-day action in counterpoint with Bloom's memories and reflections. Bloom works in a downtown medical clinic; he remembers his late wife and stillborn daughter; he considers his literary masters, most of all Chekhov; importantly, he meets Larry Logan's estranged wife Marianne. Then, out for a run in a local ravine, he sees a woman being beaten up; he has reason to believe it is his classmate, Sophie.

As Bloom and Marianne Logan fall for one another, and Bloom tentatively pursues his long postponed writing, Sophie's situation becomes more and more of a concern; soon it has drawn in Larry, Marianne and others, none of whom are able to step in and help her. This is in part because, complicating matters, Sophie does not appear to want to be "rescued." As she puts it, speaking of herself in a coded, charged conversation in the writing workshop:

"She has a belief. She believes that there are circumstances which, although they may not appear happy, are part of a the deeper life…. it would be a mistake, she thinks, to leave these circumstances."

Sophie's husband, Walter Rollo Maggione, comes to Bloom for cardiac treatment. Abrasive and arrogant, some twenty-five years older than Sophie, he is a Swiss psychologist pursuing a doctorate at the University of Toronto, specializing in Jung. Meanwhile Marianne, a psychoanalytic psychotherapist, has come to care about Sophie as deeply as Bloom has.

Bloom and Marianne return from a brief Caribbean vacation to discover Sophie in the emergency room of Sunnybrook hospital, bruised and battered, claiming to have fallen down the stairs. Her husband has also been admitted, after an attack of angina. Attempts to intervene prove fruitless, but Bloom sees a way he could help Sophie: as Maggione's physician, he is aware of the subtleties of his condition, aware that were Maggione to not have the right medication to hand at the right moment, his life could be in danger.

The novel's central moral question gains shape: given all he knows about Sophie's situation — about the violence and suffering she experiences, and her view of it as a kind of religious task — can Bloom justify "altering the odds"? Can he make it less likely that Maggione will pull through his next cardiac malfunction? Bloom's dilemma, carefully examined and disentangled, will haunt readers of this supple and moving novel long after its resolution.
About the Author
Don Coles was born on April 12, 1927, in the town of Woodstock, Ontario.
Coles entered Victoria College at the University of Toronto in 1945. He did a four-year history degree, then a two-year M.A. in English, spending two undergraduate summers in Trois-Pistoles, Quebec, learning French, and one summer travelling in Europe. He had several courses with Northrop Frye and Marshall McLuhan, whom he recalls as the best teachers of his life. In between the two M.A. years, he spent a year in London working in a bookstore, then enrolled at Cambridge from 1952 to 1954, and upon graduating was awarded a British Council grant to live in Florence for a year. It was in Stockholm that he met Heidi Golnitz of Lubeck, Germany, whom he eventually married; they lived in Copenhagen and Switzerland before coming to Canada with their daughter in 1965-supposedly for a visit, but they stayed.
It was only around 1967, in tandem with teaching, that Coles began writing poems. His first collection
Praise For Doctor Bloom's Story…
"Part crisp thriller, part meditation on writing, Doctor Bloom's Story is wholly marvellous."
—Maclean's

"A straight-ahead, spryly imagined, tightly written tale of suspense. . . This is fabulous stuff. Doctor Bloom's Story has countless. . .moments that, in their combination of gaiety and sadness, fix themselves in your imagination. . . . Doctor Bloom is surely one of the most memorable and triumphantly conceived characters in recent Canadian fiction."
—The Globe and Mail

"Coles writes so elegantly and so convincingly that we would follow him anywhere."
—The Literary Review of Canada

"Coles, who has won many awards for collections of poetry, tells Dr. Bloom's story with an ear attuned to the rhythms of speech and an admirable eye for detail."
—Quill & Quire

"Doctor Bloom's Story is, by turns, witty, contemplative, and spirited story telling. One of our finest poets now proves himself to be an accomplished novelist."
—Guy Vanderhaeghe

"Any fan of Coles' poetry will instantly recognize the distinctive, casually sophisticated voice of this novel, the almost off-hand way it gathers a whole range of interests into a compelling whole. Doctor Bloom's Story is at once a medical mystery tale, an exploration of the limits of love and friendship, and a tribute to the art of writing — all rolled into an effortlessly seductive narrative. I couldn't put it down."
—John Bemrose, author of The Island Walkers

"Doctor Bloom's Story is utterly compelling, a novel both wise and wonderful."
—Richard B. Wright, author of Clara Callan

"How wonderful to find this trusted voice again, the poet transformed into the worldly late-bloomer Bloom! Reading Don Coles is like listening to an erudite, judicious friend tell the story of a life of the mind that doesn't for a moment neglect the delights of the flesh."
—Katherine Govier

"Doctor Bloom's Story is a complex, mellifluous novel that, while not tediously or pretentiously poetic, certainly puts language foremost — with commanding surefootedness and subtlety."
—New Brunswick Reader

"A masterful, taut and unusual book."
—Calgary Herald

"Coles has devised something odd, lovely and exceptional: a plot-driven novel of ideas in which ideas are integral to characterization. He captures Bloom's intelligence as it listens to itself unfolding, and it's both fascinating and entertaining to listen with him…. A book that buries a thought-poem on every page."
—The Vancouver Sun