The Nine Lives of Charlotte Taylor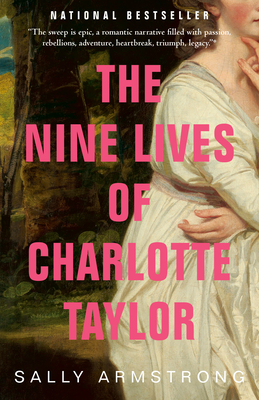 The Nine Lives of Charlotte Taylor
Vintage Books Canada, Paperback, 9780679314059, 397pp.
Publication Date: February 12, 2008
* Individual store prices may vary.
Buy at Local Store
Enter your zip code below to purchase from an indie close to you.
or
Not Currently Available for Direct Purchase
Description
Charlotte Taylor lived in the front row of history. In 1775, at the young age of twenty, she fled her English country house and boarded a ship to Jamaica with her lover, the family's black butler. Soon after reaching shore, Charlotte's lover died of yellow fever, leaving her alone and pregnant in Jamaica. In the sixty-six years that followed, she would find refuge with the Mi'kmaq of what is present-day New Brunswick, have three husbands, nine more children and a lifelong relationship with an aboriginal man. Using a seamless blend of fact and fiction, Charlotte Taylor's great-great-great-granddaughter, Sally Armstrong, reclaims the life of a dauntless and unusual woman and delivers living history with all the drama and sweep of a novel.

Excerpt from from The Nine Lives of Charlotte Taylor:

"Every summer of my youth, we would travel from the family cottage at Youghall Beach to visit my mother's extended clan in Tabusintac near the Miramichi River. And at every gathering, just as much as there would be chickens to chase and newly cut hay to leap in, so there would be an ample serving of stories about Charlotte Taylor. . .

She was a woman with a "past." The potboilers about her ran like serials from summer to summer, at weddings and funerals and whenever the clan came together. She wasn't exactly presented as a gentlewoman, although it was said that she came from an aristocratic family in England. Nor was there much that seemed genteel about the person they always referred to as "old Charlotte." Words like "lover" and "land grabber" drifted down from the supper table to where we kids sat on the floor. There were whoops of laughter at her indiscretions, followed by sideways glances at us. But for all the stories passed around, it was clear the family still had a powerful respect for a woman long dead. We owed our very existence to her, and the anecdotes the older generation told suggested that their own fortitude and guile were family traits passed down from the ancestral matriarch. For as long as I can remember, I've tried to imagine the real life Charlotte Taylor lived and, more, how she ever survived."
About the Author
Human rights activist and journalist SALLY ARMSTRONG has covered stories about women and girls in zones of conflict all over the world. Her eye witness reports have earned her awards including the Gold Award from the National Magazine Awards Foundation. She received the Amnesty International Media Award in 2000, 2002 and 2011, and she was a member of the International Women s Commission, a UN body whose mandate is assisting with the path to peace in the Middle East. She is the author of "Uprising: A New Age Is Dawning for Every Mother's Daughter".
Praise For The Nine Lives of Charlotte Taylor…
"The sweep is epic, a romantic narrative filled with passion, rebellion, adventure, heartbreak, triumph, legacy. It's a heck of a story."
–Ottawa Citizen

"A fascinating tale told at a lively pace."
–Quill & Quire

"Sally Armstrong has done a brilliant job bringing her ancestor vividly to life in a compelling recreation of a settler's life. . . . The list of well-written historical novels set in Canada are short, but The Nine Lives of Charlotte Taylor should be close to the top."
–The Globe and Mail

"Charlotte Taylor's story is what you might get if you crossed Susannah Moodie and Jack Aubrey - a delicious character and a great yarn. Sally Armstrong has imagined an ancestor who possesses all the passion and daring that she herself has in abundance, and by the time we had finished our journey together through the trials and  turbulence and the terrible beauty of the early days on the Miramichi,  I wanted to claim Charlotte as my ancestor, too."
–Mary Lou Finlay, broadcaster and former host of As It Happens

Praise for Veiled Threat:

"A brief but brilliant book about the hidden power of the women of Afghanistan . . . written in blazingly clear language, blessedly free of academic pretensions."
–Winnipeg Free Press

"Emotionally demanding reading . . . a passionate portrayal of recent events in Afghanistan from the perspective of a committed, feminist outsider."
–The Hamilton Spectator

"A powerful book that shows how women can change the world."
–Toronto Sun

"Veiled Threat's strength lies in its empirical portrayal of the injustices and inhumanities visited upon the Afghan people, especially woman and girls . . . [and] is to be applauded for its emotionally gripping disclosure of suffering and injustice."
–The Globe and Mail

"Sally Armstrong views Afghanistan through the eyes of its women. Her story [of Dr. Sima Samar] is one of hope and triumph, as are most of the tales in this straightforward, uplifting volume."
–The Washington Post