Great Expectations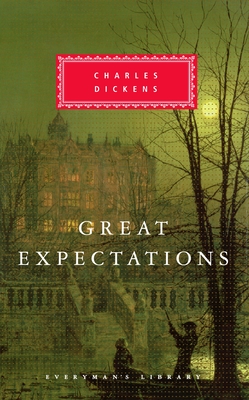 Great Expectations
Everyman's Library, Hardcover, 9780679405795, 544pp.
Publication Date: March 10, 1992
* Individual store prices may vary.
Buy at Local Store
Enter your zip code below to purchase from an indie close to you.
or
Buy Here
Description
One of Charles Dickens's most fascinating novels, "Great Expectations" follows the orphan Pip as he leaves behind a childhood of misery and poverty after an anonymous benefactor offers him a chance at the life of a gentleman.
From the young Pip's first terrifying encounter with the convict Magwitch in the gloom of a graveyard to the splendidly morbid set pieces in Miss Havisham's mansion to the magnificently realized boat chase down the Thames, "Great Expectations" is filled with the transcendent excitement that Dickens could so abundantly provide.
Written in 1860, at the height of his maturity, it also reveals the novelist's bittersweet understanding of the extent to which our deepest moral dilemmas are born of our own obsessions and illusions.
This edition includes Dickens's original, discarded conclusion to the novel, the 1907 Everyman preface by G. K. Chesterton, and twenty illustrations by F. W. Pailthorpe.
(Book Jacket Status: Jacketed)
About the Author
Arguably one of the greatest writers of the Victorian era, Charles Dickens is the author of such literary masterpieces as A Tale of Two Cities (1859), A Christmas Carol (1843), David Copperfield (1850), and The Adventures of Oliver Twist (1839), among many others. Dickens' s indelible characters and timeless stories continue to resonate with readers around the world more than 130 years after his death. Dickens was born in 1812 and died in 1870.

Michael Slater was chairman and co-founder of Fotiva, the startup thatdeveloped the product that evolved into Photoshop Album (and was acquiredby Adobe in 2001). Prior to that, Michael was founder and president ofMicroDesign Resources, where he created the Microprocessor Report. Inaddition, Michael has been a columnist for numerous industry publications andan in-demand speaker at industry conferences and seminars.
Praise For Great Expectations…
"Great Expectations may be called a novel without a hero . . . In [it] Dickens was really trying to be a quiet, a detached, and even a cynical observer of human life . . . And the final and startling triumph of Dickens is this: that even to this moderate and modern story he gives an incomparable energy which is not moderate and which is not modern. He is trying to be reasonable; but in spite of himself he is inspired." –G. K. Chesterton

"Great Expectations [is] generally regarded as Dickens's artistic masterpiece, and a novel profoundly serious in its psychological and sociological import . . . Dickens tell[s] a universal story of human passions, mutual exploitation, selfishness, self-delusion, and selflessness . . . [It] is the subtlest and most profound, as well as the most triumphantly achieved, of all his great novels." –From the Introduction by Michael Slater