Emma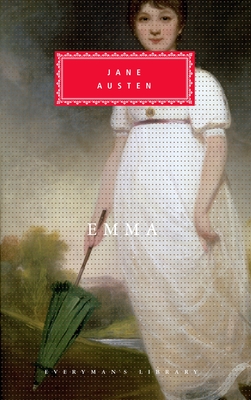 Emma
Everyman's Library, Hardcover, 9780679405818, 552pp.
Publication Date: November 26, 1991
* Individual store prices may vary.
Buy Now
or
Shop Local
Enter your zip code below to purchase from an indie close to you.
Description
The most perfect of Jane Austen's perfect novels begins with twenty-one-year-old Emma Woodhouse comfortably dominating the social order in the village of Highbury, convinced that she has both the understanding and the right to manage other people's lives for their own good, of course. Her well-meant interfering centers on the aloof Jane Fairfax, the dangerously attractive Frank Churchill, the foolish if appealing Harriet Smith, and the ambitious young vicar Mr. Elton and ends with her complacency shattered, her mind awakened to some of life's more intractable dilemmas, and her happiness assured.
Jane Austen's comic imagination was so deft and beautifully fluent that she could use it to probe the deepest human ironies while setting before us a dazzling gallery of characters some pretentious or ridiculous, some admirable and moving, all utterly true.
(Book Jacket Status: Jacketed)
About the Author
One of England s most beloved authors, Jane Austen wrote such classic novels as Pride and Prejudice, Sense and Sensibility, Emma, and Northanger Abbey. Published anonymously during her life, Austen s work was renowned for its realism, humour, and commentary on English social rites and society at the time. Austen s writing was supported by her family, particularly by her brother, Henry, and sister, Cassandra, who is believed to have destroyed, at Austen s request, her personal correspondence after Austen s death in 1817. Austen s authorship was revealed by her nephew in A Memoir of Jane Austen, published in 1869, and the literary value of her work has since been recognized by scholars around the world.

Marilyn Butler (1937 2014) was a prominent scholar in eighteenth-century and Romantic studies, a groundbreaking practitioner and theorist of the historicist criticism of literary texts, and pioneering scholarly editor of hitherto marginalized women writers. Her widely acclaimed publications include Maria Edgeworth: A Literary Biography (1972), Jane Austen and the War of Ideas (1975), Peacock Displayed: A Satirist in his Context (1979), Romantics, Rebels and Reactionaries: English Literature and its Background, 1760 1830 (1981), and seminal scholarly editions of works by Mary Wollstonecraft, Maria Edgeworth, Mary Shelley and Jane Austen. She was King Edward VII Professor of English Literature at the University of Cambridge from 1986 to 1993, and Rector of Exeter College, Oxford, from 1993 to 2004. Mapping Mythologies, finished in 1984, but never hitherto published, is the first volume of a never-completed larger project on literary mythologies between 1730 and 1830.
Praise For Emma…
"On the face of it, the concern with love is just what makes any Austen novel likeable, accessible, among the friendliest of classics. Where Emma is concerned, it's also where the puzzles of this teasing novel begin . . . It is in Emma that Austen does most to release herself from the narrow preoccupation with romantic love that her plots seem to hold out to the reader. Emma is a very great novel, and a particularly intriguing one."
–from the Introduction by Marilyn Butler