The Complete Maus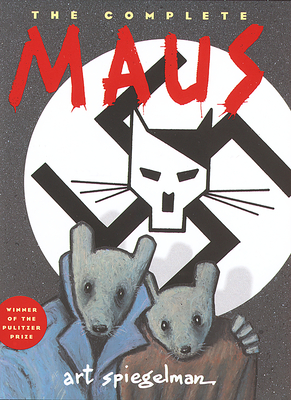 The Complete Maus
A Survivor's Tale
Pantheon Books, Hardcover, 9780679406419, 296pp.
Publication Date: November 19, 1996
* Individual store prices may vary.
Buy at Local Store
Enter your zip code below to purchase from an indie close to you.
or
Buy Here
Description
On the occasion of the twenty-fifth anniversary of its first publication, here is the definitive edition of the book acclaimed as -the most affecting and successful narrative ever done about the Holocaust- (Wall Street Journal) and -the first masterpiece in comic book history- (The New Yorker).

The Pulitzer Prize-winning Maus tells the story of Vladek Spiegelman, a Jewish survivor of Hitler's Europe, and his son, a cartoonist coming to terms with his father's story. Maus approaches the unspeakable through the diminutive. Its form, the cartoon (the Nazis are cats, the Jews mice), shocks us out of any lingering sense of familiarity and succeeds in -drawing us closer to the bleak heart of the Holocaust- (The New York Times).
Maus is a haunting tale within a tale. Vladek's harrowing story of survival is woven into the author's account of his tortured relationship with his aging father. Against the backdrop of guilt brought by survival, they stage a normal life of small arguments and unhappy visits. This astonishing retelling of our century's grisliest news is a story of survival, not only of Vladek but of the children who survive even the survivors. Maus studies the bloody pawprints of history and tracks its meaning for all of us.
About the Author
Art Spiegelman is a contributing editor and artist for The New Yorker, and a co-founder / editor of Raw, the acclaimed magazine of avant-garde comics and graphics. His drawings and prints have been exhibited in museums and galleries here and abroad. Honors he has received for Maus include the Pulitzer Prize, a Guggenheim fellowship, and nominations for the National Book Critics Circle Award. He lives in New York City with his wife, Francoise Mouly, and their two children, Nadja and Dashiell.
Praise For The Complete Maus…
"A loving documentary and brutal fable, a mix of compassion and stoicism [that] sums up the experience of the Holocaust with as much power and as little pretension as any other work I can think of."
–The New Republic

"A quiet triumph, moving and simple–impossible to describe accurately, and impossible to achieve in any medium but comics."
–The Washington Post

"Spiegelman has turned the exuberant fantasy of comics inside out by giving us the most incredible fantasy in comics' history: something that actually occurred…. The central relationship is not that of cat and mouse, but that of Art and Vladek. Maus is terrifying not for its brutality, but for its tenderness and guilt."
–The New Yorker

"All too infrequently, a book comes along that's as daring as it is acclaimed. Art Spiegelman's Maus is just such a book."
–Esquire

"An epic story told in tiny pictures."
–The New York Times

"A remarkable work, awesome in its conception and execution… at one and the same time a novel, a documentary, a memoir, and a comic book. Brilliant, just brilliant."
–Jules Feffer